Industrial 4G Cat 4 Router with Quectel EG25-G SIM Card Slot VPN Data Pass-Through for Integration
Regular price
$125.57 USD
Regular price
$135.57 USD
Sale price
$125.57 USD
Unit price
/
per
Sold out
Share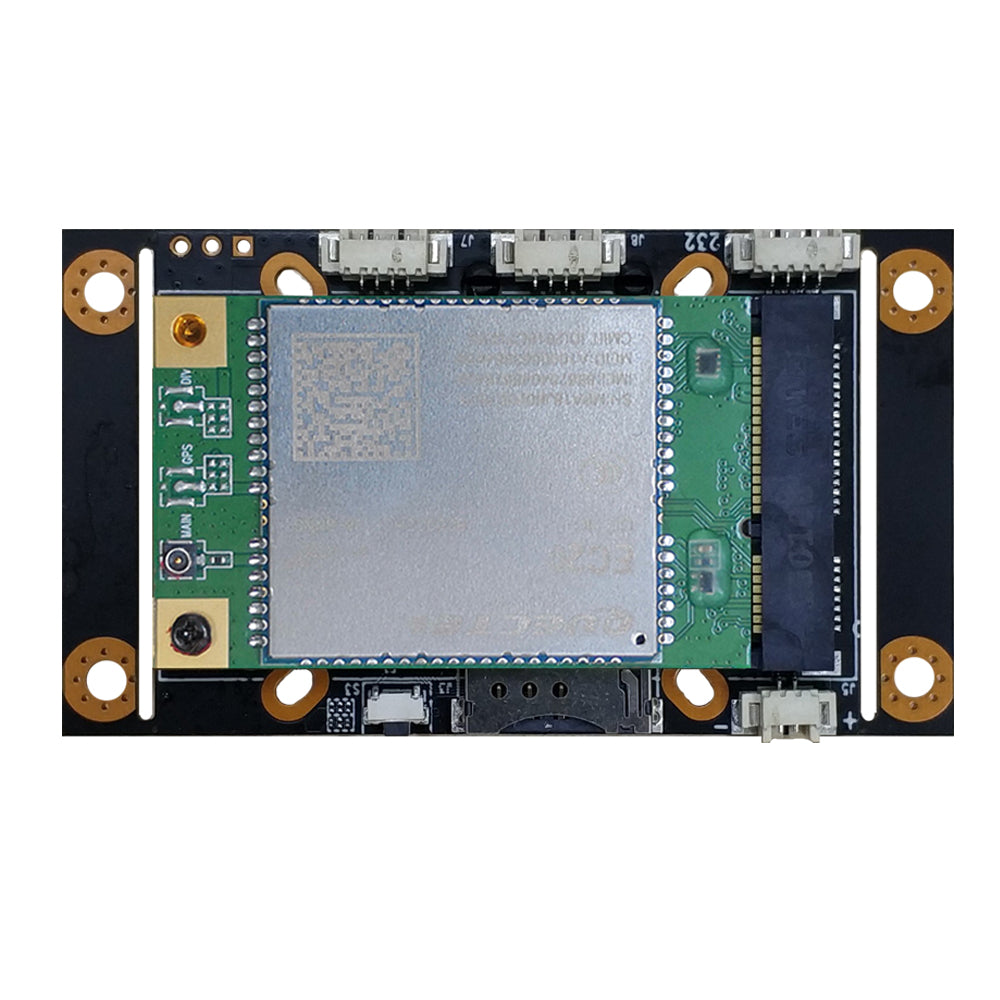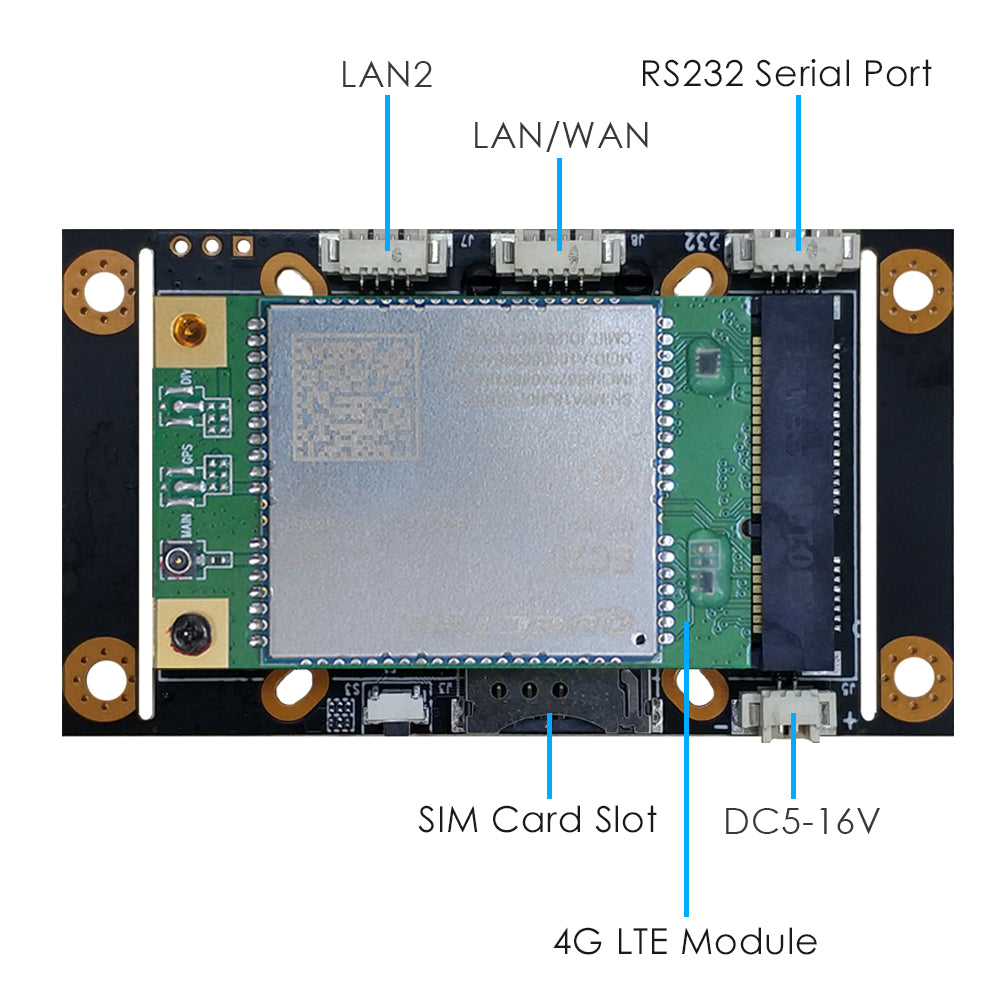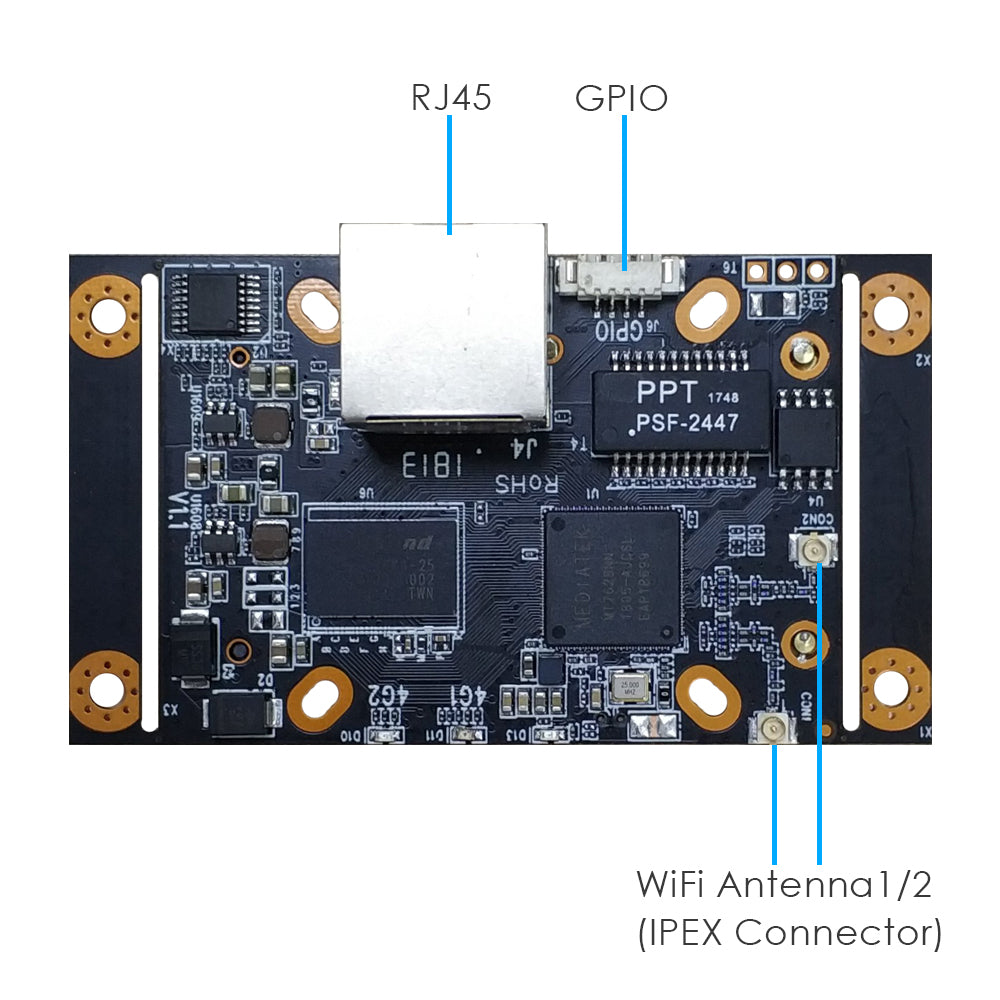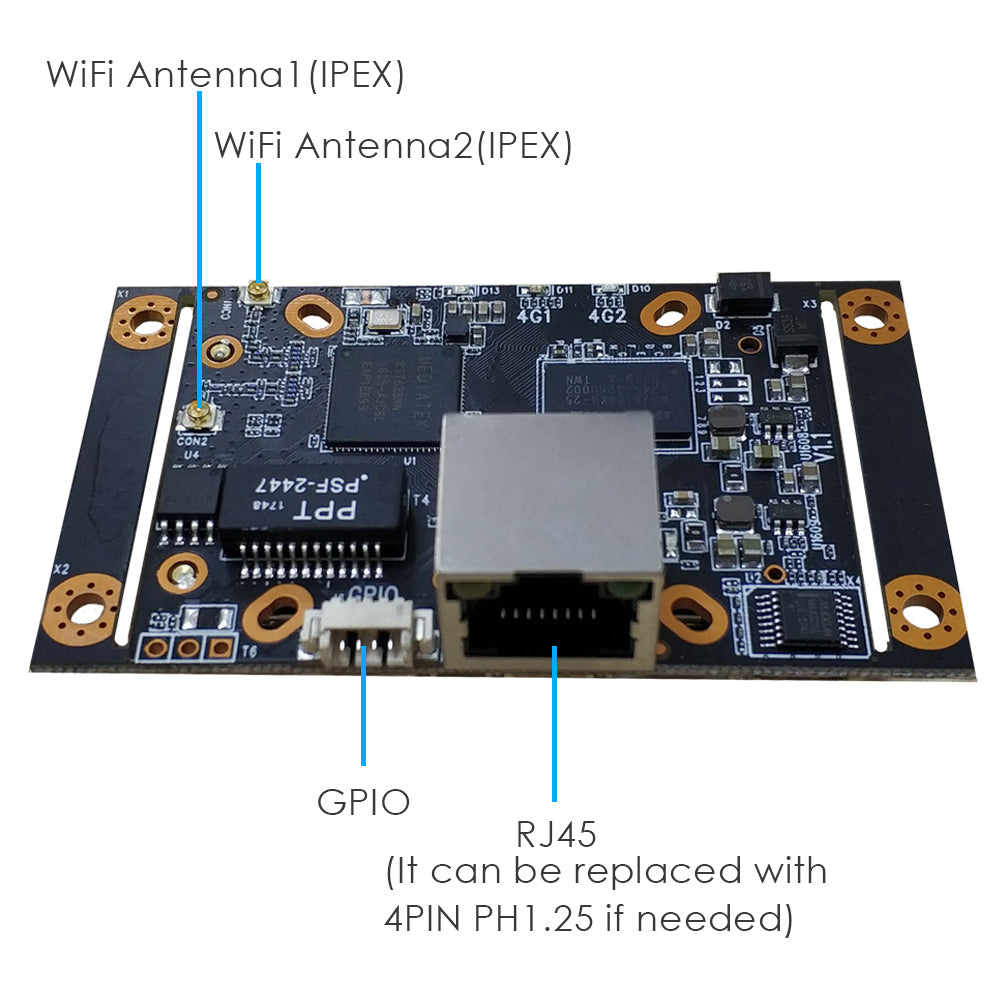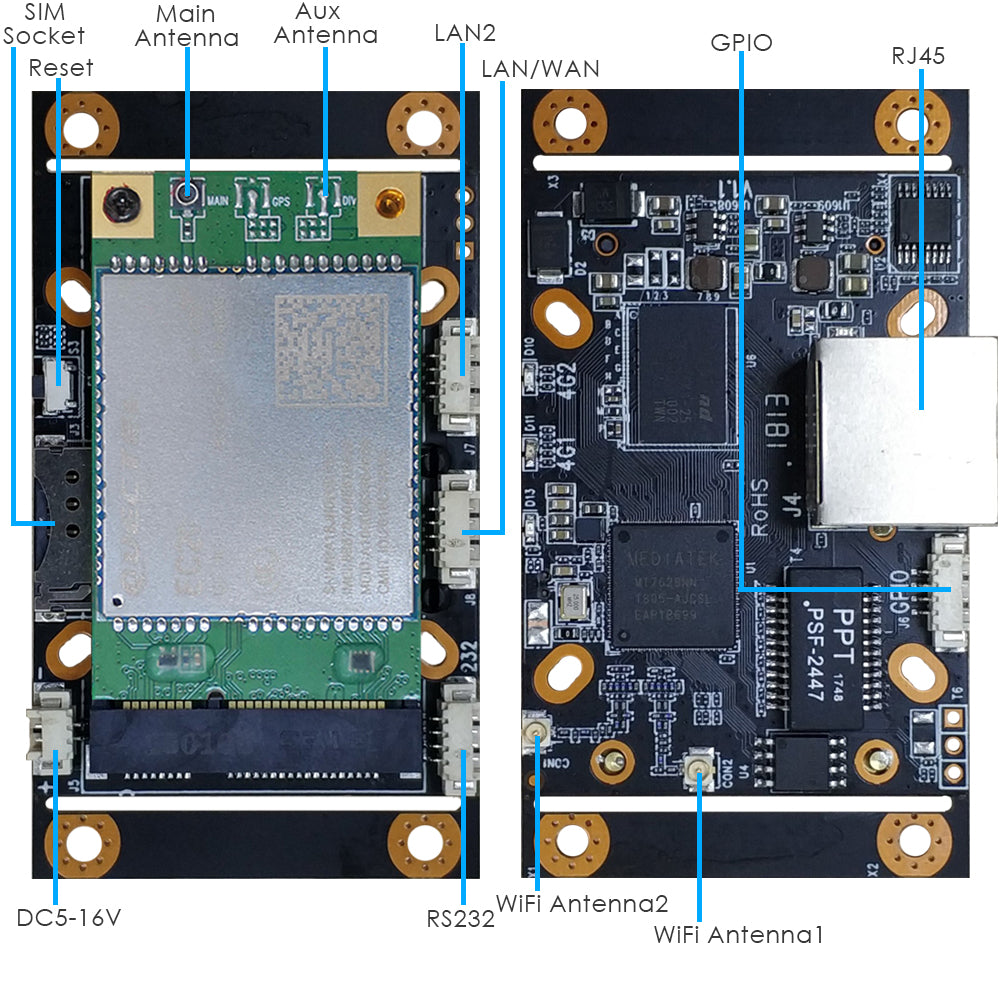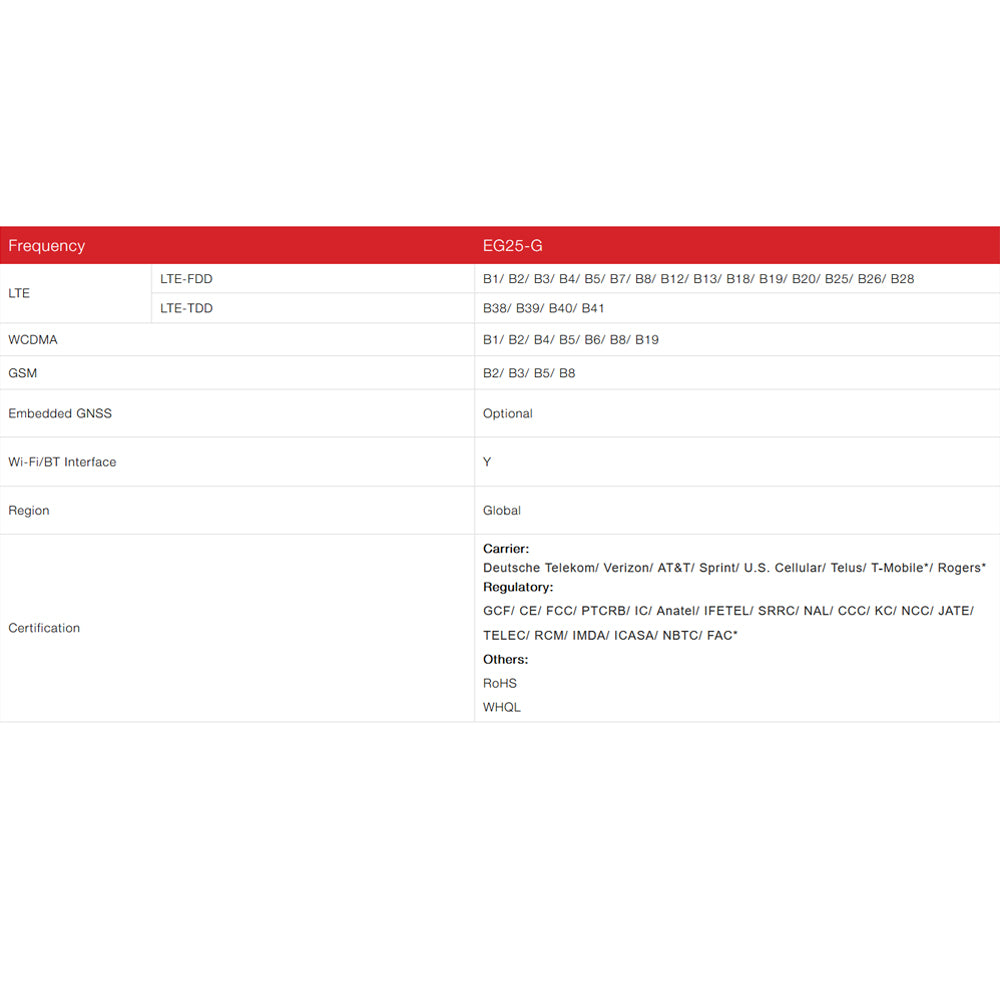 Overview
V518 adopts high performance 32-bit processor, which is able to process protocols and huge data with high speed. It can be well matched with multi 3G/4G industrial modules (3G: WCDMA/EVDO/TD-SCDMA, 4G: TD-LTE/FDD-LTE). It's built-in with 100M ethernet interface, 300M WIFI wireless interface, comm port, which can be integrated with multi terminal devices. Basic settings like WEB configuration, device management and remote control are all supported.
Applicable industries:
Electrical, oil, coal, finance, communication, public security, heat, industrial control, meteorological, water conversancy, transportation, municipal administration etc.
Key Benefits
Auto Detection, Auto Reboot When Failed to Dial, Timing Reboot.
VPN Client and Server Mode.
Support VPDN Services by More Than 200 Global Carriers.
Multiple DDNS Dynamic Domain Service.
Site Control, Port Mapping, DMZ Host, Firewall etc.
MAC Black/White List.
Singly User Management(Access/Connection Authorization etc.).
Remote Cloud Management.
Software Watchdog Design to Ensure It will be Online for 7*24H.
Compatible with Most of 4G Module, Auto/Manual 2G/3G/4G.
Compatible with Multiple Card of IOT, Customized APN.
Smart Backup Between Dual Wireless Network.
Smart Backup between Wired and Wireless Network.
Attached Clout Management Platform(Developing).
Specification
SOC 
MT7628
Flash
1Gb/64Mb
WIFI(2.4G) 

Standard: IEEE802.11bgn 300Mbps(2T2R)

Transmission Power: 11n HT40 MCS7 15dBm/11b CCK 18dBm/11G OFDM 15dBm

Receiving Sensitivity: -65dBm at 300Mbps/-73dBm at 54Mbps/-86dBm at 11Mbps

Network Interface

LAN/WAN Pin Interface x 1(10/100Mbps Adaptive), Ethernet Port Can Be Welded If Needed;

LAN2 Pin Interface x 1(10/100Mbps Adaptive)

COMM(RS232)
Snap-in Interface (TTL 3.3V or RS232 5V), RS232 By Default
Antenna 
WIFI Omnidirectional IPEX Antennax 2, 4G Omnidirectional IPEX Antennax 1
SIM Card Slot 
Micro SIM slot, Gap Outwarded, Hot-Plugged Not Supported
Button
Reset Button(Press For More Than 5 Seconds to Reset)
Indicator

4G LED(Green): Steady Green When Connected, Quick Flash When Dialing, Slow Flash For Failed Connection;

Signal LED(Red): Red When Signal is Bad;

Signal LED(Green): Green When Signal Is Strong;

Signal LEDx 2 Both Not Lit Means No Signal, No SIM Card, No 4G Module

Power Supply
DC Pin(with snap-in) 5~16V/2A, 12V Recommended
Power Consumption
Less Than 500mA When Powered by 12V(Full Load))
Network Connection
3G/4G, Wire, Wireless, Bridge, Relay, WISP, Intelligent Backup Mode
Software Features

Multiple modes (4G/Wire Gateway/Wireless/Wireless Bridge/Wireless Hotspot/Wireless Relay);

APN Auto Detection(more than 400 ISP supported) and APN customization;

RS232 Pass-through(Data Control/Customized Registration Pack/Customized Keep-Alive Pack;

RS232 Pass-through(Server and Client Simultaneously Work/Serial Port Data Statistics);

VPN(L2TP Server and Client/PPTP Server and Client);

Network Keep-Alive Mechanism(ICMP/DNS Detection);

Auto Reboot(Timing or Reboot when free);

DDNS(Oray or other ISP supported), UPNP, Access Control, Firewall, Port Mapping, DMZ;

WOL Local Broadcast Discovery Protocol Interface (Used for Discovering Local Devices);

HTTP Protocol Control Interface (Used for Controlling the Device).

Developing Port

Local Broadcast Discovery Protocol Interface(Used for Discovering Local Devices;

HTTP Protocol Control Interface(Used for Controlling the Device);

Telnet Command Control Interface;

Remote Cloud HTTP Control Interface(Used for Integration with Cloud Platform Management);

Please Contact Sales for Protocols in Detail.

SDK 
SDK for Farm, Can Develop Related Application Based On This SDK
Device Management   

Network Time Synchronization, Synchroninzed with PC and Cellphone;

Backup and Import Configuration;

Online and Local Upgrade;

Remote Management;

Telnet (Terminal) Command, Serial Port (TTL) Command;

LED Indicator On/Off, Local and Remote Log.

Max. Users
Wireless Connection: 60nos, Wired Connection: 100nos (Theoretically)
Browsers Requirement
IE9.0/Chrome 60.0.0/Firefox 55.0.0/ Safari:5.0.0 Later Version
Working Temperature
-20°C ~ +70°C (-20°F ~ +158°F)
Storage Temperature
-20°C ~ +85°C (-20°F ~ +185°F)
Dimension
73.4mm*42mm*11.8mm (With Side Board and Position Hole)
Operation Band
LTE Cat 4

EC25-E

EC25-EU

EC25-EUX

EC25-J

Region/Operator
EMEA/South Korea/Thailand/India
EMEA/Thailand
EMEA/Thailand
Japan
Dimensions(mm)
30.0 x 51.0 x 4.9
30.0 x 51.0 x 4.9
30.0 x 51.0 x 4.9
30.0 x 51.0 x 4.9

Temperature Ranges

Operating Temperature
-35°C to +75°C
 -35°C to +75°C
 -35°C to +75°C
 -35°C to +75°C
Extended Temperature
 -40°C to +85°C
-40°C to +85°C
-40°C to +85°C
-40°C to +85°C

Frequency Bands

LTE-FDD
B1/B3/B5/B7/B8/B20
B1/B3/B7/B8/B20/B28A
B1/B3/B7/B8/B20/B28A
B1/B3/B8/B18/B19/B26
LTE-TDD
B38/B40/B41
B38/B40/B41
B38/B40/B41
B41
WCDMA
B1/B5/B8
B1/B8
B1/B8
B1/B6/B8/B19
GSM/EDGE
B3/B8
 B3/B8
 B3/B8
 /
GNSS
GPS/GLONASS/BeiDou (Compass)/
Galileo/QZSS (Optional)
GPS/GLONASS/BeiDou (Compass)/
Galileo/QZSS (Optional)
GPS/GLONASS/BeiDou (Compass)/
Galileo/QZSS (Optional)
GPS/GLONASS/BeiDou (Compass)/
Galileo/QZSS (Optional)

Certifications

Carrier
Global: Vodafone
Europe: Deutsche Telekom/Telefónica
South Korea: SKT/KT*/LGU+*
Europe: Deutsche Telekom/
British Telecom
/
Japan: NTT DOCOMO/SoftBank/KDDI
Regulatory
Global: GCF
Europe: CE
South Korea: KC
Taiwan (China): NCC
Australia/New Zealand: RCM
Thailand: NBTC
Russia: FAC
South Africa: ICASA
Global: GCF
Europe: CE
Taiwan (China): NCC
Australia/New Zealand: RCM
Global: GCF
Europe: CE
Taiwan (China): NCC
Australia/New Zealand: RCM
Japan: JATE/TELEC
Others
RoHS/WHQL
RoHS/WHQL
RoHS/WHQL
RoHS/WHQL

Data Transmission

LTE-FDD Data Rates (Mbps)
150 (DL)/ 50 (UL)
150 (DL)/ 50 (UL)
150 (DL)/ 50 (UL)
150 (DL)/ 50 (UL)
LTE-TDD Data Rates (Mbps)
130 (DL)/ 30 (UL)
130 (DL)/ 30 (UL)
130 (DL)/ 30 (UL)
130 (DL)/ 30 (UL)
DC-HSPA+ Data Rates (Mbps)
42 (DL)/ 5.76 (UL)
42 (DL)/ 5.76 (UL)
42 (DL)/ 5.76 (UL)
42 (DL)/ 5.76 (UL)
WCDMA Data Rates (kbps)
384 (DL)/ 384 (UL)
384 (DL)/ 384 (UL)
384 (DL)/ 384 (UL)
384 (DL)/ 384 (UL)
EDGE Data Rates (kbps)
296 (DL)/ 236.8 (UL)
296 (DL)/ 236.8 (UL)
296 (DL)/ 236.8 (UL)
/
GPRS Data Rates (kbps)
107 (DL)/ 85.6 (UL)
107 (DL)/ 85.6 (UL)
107 (DL)/ 85.6 (UL)
/

Interfaces

(U)SIM
x 1
x 1
x 1
x 1
UART
x 2
x 2
x 2
x 2
USB2.0
x 1
x 1
x 1
x 1
Audio Digital(PCM)
x 1
x 1
x 1
x 1
I2C
x 1
x 1
x 1
x 1
SDIO
x 2
x 2
x 1
x 2
SGMII
x 1
x 1
x 1
x 1
Bluetooth*
x 1
x 1
/
x 1
ADC
x 2
x 2
x 2
x 2

Voice

Speech Codec Modes
HR/FR/EFR/AMR/AMR-WB
HR/FR/EFR/AMR/AMR-WB
HR/FR/EFR/AMR/AMR-WB
HR/FR/EFR/AMR/AMR-WB
Echo Arithmetic
Echo Cancellation/Noise Suppression
Echo Cancellation/Noise Suppression
Echo Cancellation/Noise Suppression
Echo Cancellation/Noise Suppression
VoLTE
Digital Audio and VoLTE
(Voice over LTE) (Optional)
Digital Audio and VoLTE
(Voice over LTE) (Optional)
Digital Audio and VoLTE
(Voice over LTE) (Optional)
Digital Audio and VoLTE
(Voice over LTE) (Optional)

Enhanced Features

DTMF
●
●
●
●
DFOTA
●
●
●
●
QMI/RmNet
●
●
●
●
Audio Playback*/Audio Recording*
Optional
Optional
Optional
Optional
QuecLocator®
●
●
●
●
QuecFile®
●
●
●
●
(U)SIM Card Detection
●
●
●
●

Drivers

USB Serial Driver
Windows 7/8/8.1/10,
Linux 2.6–5.4,
Android 4.x–9.x
Windows 7/8/8.1/10,
Linux 2.6–5.4,
Android 4.x–9.x
Windows 7/8/8.1/10,
Linux 2.6–5.4,
Android 4.x–9.x
Windows 7/8/8.1/10,
Linux 2.6–5.4,
Android 4.x–9.x
GNSS Driver
Android 4.x–9.x
Android 4.x–9.x
Android 4.x–9.x
Android 4.x–9.x
RIL Driver
Android 4.x–10.x
Android 4.x–10.x
Android 4.x–10.x
Android 4.x–10.x
NDIS
Windows 7/8/8.1/10
Windows 7/8/8.1/10
Windows 7/8/8.1/10
Windows 7/8/8.1/10
MBIM
Windows 8/8.1/10,
Linux 3.18–5.4
Windows 8/8.1/10,
Linux 3.18–5.4
/
Windows 8/8.1/10,
Linux 3.18–5.4
GobiNet Driver
Linux 2.6–5.4
Linux 2.6–5.4
Linux 2.6–5.4
Linux 2.6–5.4
QMI_WWAN Driver
Linux 3.4–5.4
Linux 3.4–5.4
Linux 3.4–5.4
Linux 3.4–5.4

Electrical Features

Supply Voltage Range
3.0–3.6V, 3.3 V Typ.
3.0–3.6V, 3.3 V Typ.
3.0–3.6V, 3.3 V Typ.
3.0–3.6V, 3.3 V Typ.
Power Consumption
3.9 mA @ Sleep, Typ.
30 mA @ Idle
3.4 mA @ Sleep, Typ.
23.3 mA @ Idle
1.69 mA @ Sleep, Typ.
18.51 mA @ Idle
3.2 mA @ Sleep, Typ.
31.5 mA @ Idle
LTE Cat 4

EC25-A Mini PCIe

EC25-V Mini PCIe

EC25-AF Mini PCIe

EC25-AFX Mini PCIe

Region/Operator
North America
America Verizon
North America
North America
Dimensions(mm)
30.0 x 51.0 x 4.9
30.0 x 51.0 x 4.9
30.0 x 51.0 x 4.9
30.0 x 51.0 x 4.9

Temperature Ranges

Operating Temperature
-35°C to +75°C
 -35°C to +75°C
 -35°C to +75°C
 -35°C to +75°C
Extended Temperature
 -40°C to +85°C
-40°C to +85°C
-40°C to +85°C
-40°C to +85°C

Frequency Bands

LTE-FDD
B2/B4/B12
B4/B13
B2/B4/B5/B12/B13/B14/B66/
B2/B4/B5/B12/B13/B14/B66/B71
LTE-TDD
/
/
/
/
WCDMA
B2/B4/B5
/
B2/B4/B5
B2/B4/B5
GSM/EDGE
/
 /
 /
 /
GNSS
GPS/GLONASS/BeiDou (Compass)/
Galileo/QZSS (Optional)
GPS/GLONASS/BeiDou (Compass)/
Galileo/QZSS (Optional)
GPS/GLONASS/BeiDou (Compass)/
Galileo/QZSS (Optional)
GPS/GLONASS/BeiDou (Compass)/
Galileo/QZSS (Optional)

Certifications

Carrier
America: AT&T/T-Mobile
Canada: Rogers/Telus
America: Verizon
America: Verizon/
AT&T (FirstNet)/T-Mobile
Canada: Rogers/Telus
America: Verizon/
AT&T (FirstNet)*
Regulatory
America: FCC
North America: PTCRB
Canada: IC
Global: GCF
America:

FCC

Global: GCF
America: FCC
North America: PTCRB
Canada: IC
Global: GCF
America: FCC
North America: PTCRB
Canada: IC
Others
RoHS/WHQL
RoHS/WHQL
RoHS/WHQL
RoHS/WHQL

Data Transmission

LTE-FDD Data Rates (Mbps)
150 (DL)/ 50 (UL)
150 (DL)/ 50 (UL)
150 (DL)/ 50 (UL)
150 (DL)/ 50 (UL)
LTE-TDD Data Rates (Mbps)
/
/
/
/
DC-HSPA+ Data Rates (Mbps)
42 (DL)/ 5.76 (UL)
/
42 (DL)/ 5.76 (UL)
42 (DL)/ 5.76 (UL)
WCDMA Data Rates (kbps)
384 (DL)/ 384 (UL)
384 (DL)/ 384 (UL)
384 (DL)/ 384 (UL)
384 (DL)/ 384 (UL)
EDGE Data Rates (kbps)
/
/
/
/
GPRS Data Rates (kbps)
/
/
/
/

Interfaces

(U)SIM
x 1
x 1
x 1
x 1
UART
x 1
x 1
x 1
x 1
USB2.0
x 1
x 1
x 1
x 1
Audio Digital(PCM)
x 1
x 1
x 1
x 1
LED_WWAN#
x 1
x 1
x 1
x 1
W_DISABLE#
x 1
x 1
x 1
x 1
UART
x 1
x 1
x 1
x 1
PERST#
x 1
x 1
x 1
x 1

Voice

Speech Codec Modes
HR/FR/EFR/AMR/AMR-WB
HR/FR/EFR/AMR/AMR-WB
HR/FR/EFR/AMR/AMR-WB
HR/FR/EFR/AMR/AMR-WB
Echo Arithmetic
Echo Cancellation/Noise Suppression
Echo Cancellation/Noise Suppression
Echo Cancellation/Noise Suppression
Echo Cancellation/Noise Suppression
VoLTE
Digital Audio and VoLTE
(Voice over LTE) (Optional)
Digital Audio and VoLTE
(Voice over LTE) (Optional)
Digital Audio and VoLTE
(Voice over LTE) (Optional)
Digital Audio and VoLTE
(Voice over LTE) (Optional)

Enhanced Features

DTMF
●
●
●
●
DFOTA
●
●
●
●
QMI/RmNet
●
●
●
●
Audio Playback*/Audio Recording*
Optional
Optional
Optional
Optional
QuecLocator®
*
●
●
●
QuecFile®
●
●
●
●
(U)SIM Card Detection
●
●
●
●

Drivers

USB Serial Driver
Windows 7/8/8.1/10,
Linux 2.6–5.4,
Android 4.x–9.x
Windows 7/8/8.1/10,
Linux 2.6–5.4,
Android 4.x–9.x
Windows 7/8/8.1/10,
Linux 2.6–5.4,
Android 4.x–9.x
Windows 7/8/8.1/10,
Linux 2.6–5.4,
Android 4.x–9.x
GNSS Driver
Android 4.x–9.x
Android 4.x–9.x
Android 4.x–9.x
Android 4.x–9.x
RIL Driver
Android 4.x–10.x
Android 4.x–10.x
Android 4.x–10.x
Android 4.x–10.x
NDIS
Windows 7/8/8.1/10
Windows 7/8/8.1/10
Windows 7/8/8.1/10
Windows 7/8/8.1/10
MBIM
Windows 8/8.1/10,
Linux 3.18–5.4
Windows 8/8.1/10,
Linux 3.18–5.4
Windows 8/8.1/10,
Linux 3.18–5.4
Windows 8/8.1/10,
Linux 3.18–5.4
GobiNet Driver
Linux 2.6–5.4
Linux 2.6–5.4
Linux 2.6–5.4
Linux 2.6–5.4
QMI_WWAN Driver
Linux 3.4–5.4
Linux 3.4–5.4
Linux 3.4–5.4
Linux 3.4–5.4

Electrical Features

Supply Voltage Range
3.0–3.6V, 3.3 V Typ.
3.0–3.6V, 3.3 V Typ.
3.0–3.6V, 3.3 V Typ.
3.0–3.6V, 3.3 V Typ.
Power Consumption
3.6 mA @ Sleep, Typ.
27 mA @ Idle
3.4 mA @ Sleep, Typ.
30 mA @ Idle
2.2 mA @ Sleep, Typ.
21.7 mA @ Idle
1.67 mA @ Sleep, Typ.
22 mA @ Idle
LTE Cat 4

EC25-MX Mini PCIe

EC25-AU Mini PCIe

EC25-AUX Mini PCIe

EG25-G Mini PCIe

Region/Operator
Mexico
Latin America/Australia/New Zealand
Latin America/Australia/New Zealand
Global
Dimensions(mm)
30.0 x 51.0 x 4.9
30.0 x 51.0 x 4.9
30.0 x 51.0 x 4.9
30.0 x 51.0 x 4.9

Temperature Ranges

Operating Temperature
-35°C to +75°C
 -35°C to +75°C
 -35°C to +75°C
 -35°C to +75°C
Extended Temperature
 -40°C to +85°C
-40°C to +85°C
-40°C to +85°C
-40°C to +85°C

Frequency Bands

LTE-FDD
B2/B4/B5/B7/B28/B66
B1/B2①/B3/B4/B5/B7/B8/B28
B2/B4/B5/B12/B13/B14/B66/
B1/B2/B3/B4/B5/B7/B8/B12/B13/
B18/B19/B20/B25/B26/B28
LTE-TDD
/
B40
B40
B38/B39/B40/B41
WCDMA
B2/B4/B5
B1/B2/B5/B8
B1/B2/B4/B5/B8
B1/B2/B4/B5/B6/B8/B19
GSM/EDGE
/
B2/B3/B5/B8
B2/B3/B5/B8
B2/B3/B5/B8
GNSS
/
GPS/GLONASS/BeiDou (Compass)/
Galileo/QZSS (Optional)
GPS/GLONASS/BeiDou (Compass)/
Galileo/QZSS (Optional)
GPS/GLONASS/BeiDou (Compass)/
Galileo/QZSS (Optional)

Certifications

Carrier
/
Australia: Telstra
/
Europe: Deutsche Telekom
America: Verizon/AT&T/U.S. Cellular
Canada: Telus/Rogers*
Regulatory
America: FCC
North America: PTCRB
Mexico: IFETEL
Global: GCF
America: FCC
Taiwan (China): NCC
Brazil: Anatel
Australia/New Zealand: RCM
Europe: CE
America: FCC
Taiwan (China): NCC
Brazil: Anatel
Australia/New Zealand: RCM
Global: GCF
Europe: CE
UK: UKCA
North America: PTCRB
America: FCC
Canada: IC
Brazil: Anatel
Mexico: IFETEL 
South Korea: KC
Taiwan(China): NCC
Japan: JATE/TELEC
Australia & New Zealand: RCM
South Africa: ICASA
Others
RoHS/WHQL
RoHS/WHQL
RoHS/WHQL
RoHS/WHQL

Data Transmission

LTE-FDD Data Rates (Mbps)
150 (DL)/ 50 (UL)
150 (DL)/ 50 (UL)
150 (DL)/ 50 (UL)
150 (DL)/ 50 (UL)
LTE-TDD Data Rates (Mbps)
/

130 (DL)/ 30 (UL)

130 (DL)/ 30 (UL)

130 (DL)/ 30 (UL)

DC-HSPA+ Data Rates (Mbps)
42 (DL)/ 5.76 (UL)
42 (DL)/ 5.76 (UL)
42 (DL)/ 5.76 (UL)
42 (DL)/ 5.76 (UL)
WCDMA Data Rates (kbps)
384 (DL)/ 384 (UL)
384 (DL)/ 384 (UL)
384 (DL)/ 384 (UL)
384 (DL)/ 384 (UL)
EDGE Data Rates (kbps)
/
296 (DL)/ 236.8 (UL)
296 (DL)/ 236.8 (UL)
296 (DL)/ 236.8 (UL)
GPRS Data Rates (kbps)
/
107 (DL)/ 85.6 (UL)
107 (DL)/ 85.6 (UL)
107 (DL)/ 85.6 (UL)

Interfaces

(U)SIM
x 1
x 1
x 1
x 1
UART
x 1
x 1
x 1
x 1
USB2.0
x 1
x 1
x 1
x 1
Audio Digital(PCM)
x 1
x 1
x 1
x 1
LED_WWAN#
x 1
x 1
x 1
x 1
W_DISABLE#
x 1
x 1
x 1
x 1
UART
x 1
x 1
x 1
x 1
PERST#
x 1
x 1
x 1
x 1

Voice

Speech Codec Modes
HR/FR/EFR/AMR/AMR-WB
HR/FR/EFR/AMR/AMR-WB
HR/FR/EFR/AMR/AMR-WB
HR/FR/EFR/AMR/AMR-WB
Echo Arithmetic
Echo Cancellation/Noise Suppression
Echo Cancellation/Noise Suppression
Echo Cancellation/Noise Suppression
Echo Cancellation/Noise Suppression
VoLTE
Digital Audio and VoLTE
(Voice over LTE) (Optional)
Digital Audio and VoLTE
(Voice over LTE) (Optional)
Digital Audio and VoLTE
(Voice over LTE) (Optional)
Digital Audio and VoLTE
(Voice over LTE) (Optional)

Enhanced Features

DTMF
●
●
●
●
DFOTA
●
●
●
●
QMI/RmNet
●
●
●
●
Audio Playback*/Audio Recording*
Optional
Optional
Optional
Optional
QuecLocator®
●
●
●
●
QuecFile®
●
●
●
●
(U)SIM Card Detection
●
●
●
●

Drivers

USB Serial Driver
Windows 7/8/8.1/10,
Linux 2.6–5.4,
Android 4.x–9.x
Windows 7/8/8.1/10,
Linux 2.6–5.4,
Android 4.x–9.x
Windows 7/8/8.1/10,
Linux 2.6–5.4,
Android 4.x–9.x
Windows 7/8/8.1/10,
Linux 2.6–5.4,
Android 4.x–9.x
GNSS Driver
/
Android 4.x–9.x
Android 4.x–9.x
Android 4.x–9.x
RIL Driver
Android 4.x–10.x
Android 4.x–10.x
Android 4.x–10.x
Android 4.x–10.x
NDIS
Windows 7/8/8.1/10
Windows 7/8/8.1/10
Windows 7/8/8.1/10
Windows 7/8/8.1/10
MBIM
/
Windows 8/8.1/10,
Linux 3.18–5.4
/
Windows 8/8.1/10,
Linux 3.18–5.4
GobiNet Driver
Linux 2.6–5.4
Linux 2.6–5.4
Linux 2.6–5.4
Linux 2.6–5.4
QMI_WWAN Driver
Linux 3.4–5.4
Linux 3.4–5.4
Linux 3.4–5.4
Linux 3.4–5.4

Electrical Features

Supply Voltage Range
3.0–3.6V, 3.3 V Typ.
3.0–3.6V, 3.3 V Typ.
3.0–3.6V, 3.3 V Typ.
3.0–3.6V, 3.3 V Typ.
Power Consumption
1.55 mA @ Sleep, Typ.
20 mA @ Idle
2.6 mA @ Sleep, Typ.
22 mA @ Idle
1.9 mA @ Sleep, Typ.
23.4 mA @ Idle
1.9 mA @ Sleep, Typ.
23.4 mA @ Idle
User Manual