4G LTE Industrial Mini PCIe to USB Adapter W/SIM Card Slot USB 2.0 4PIN PH1.25 Connector for WWAN/LTE 3G/4G Module
Regular price
$20.57 USD
Sale price
$10.57 USD
Unit price
/
per
Sold out
Share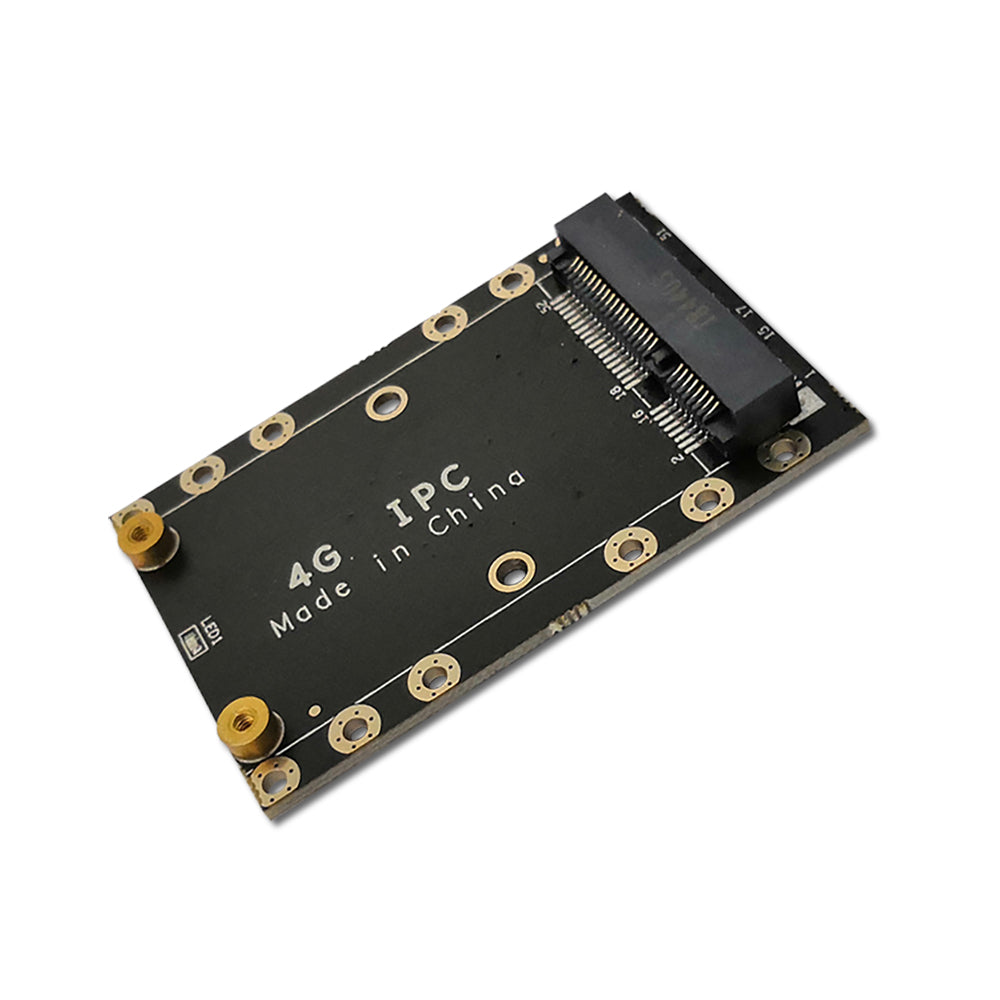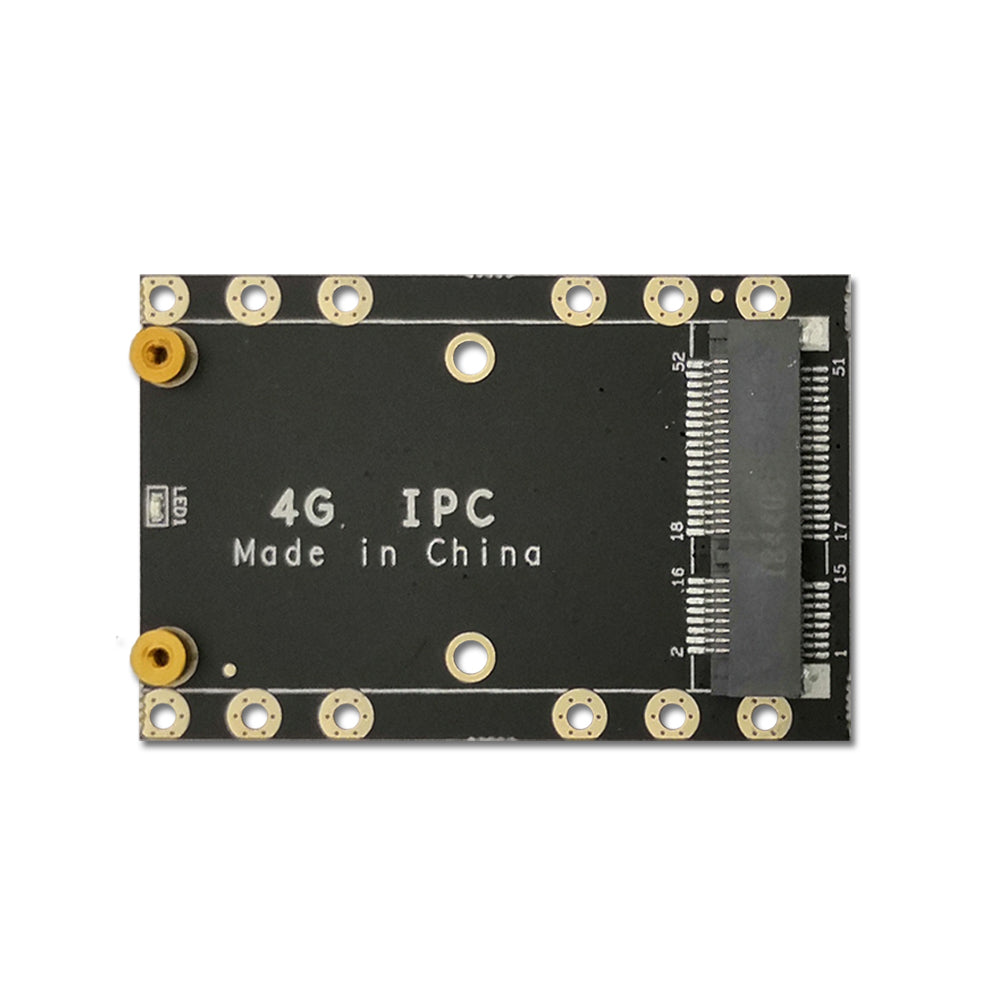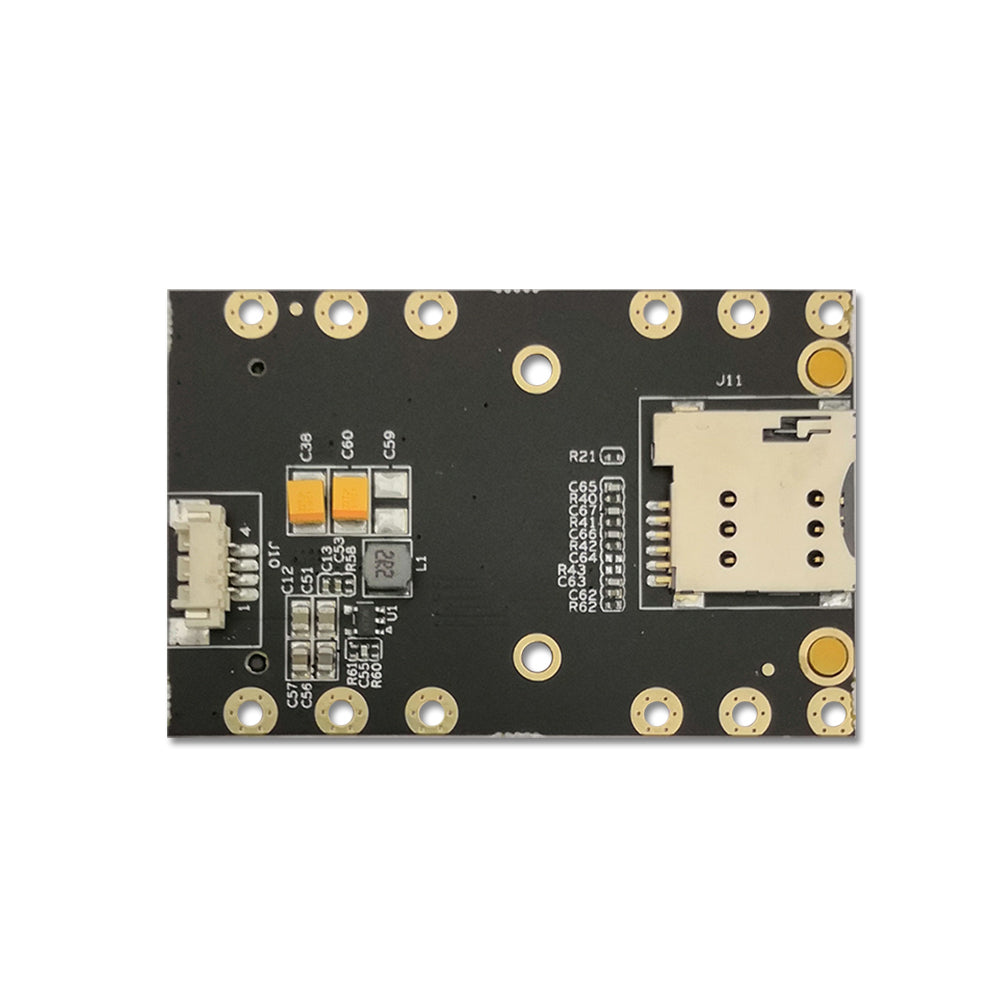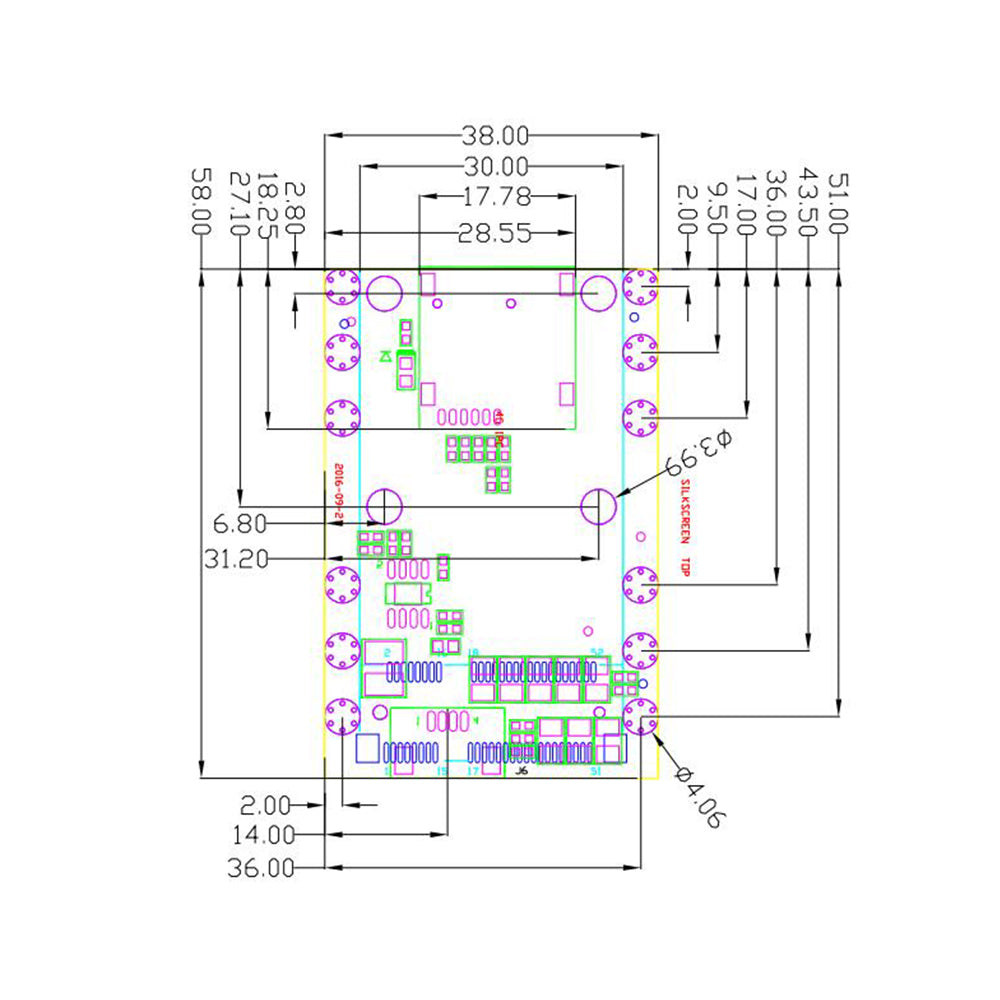 Overview
Advantages
Compatible with all 3G、4G wireless modules in the market, such as HUAWEI, ZTE, AIRCARD, LONGSUNG, YUGA, QUECTEL, MEIG, SIMCOM, SAMSUNG, HUAYU, DTT etc.
Can be used for testing module as well as WiFi module (USB bus) and Mini PCI-E interface card (USB bus) via USB connector.
To guarantee the module can always be working fine and never be offline even under severe environment, this adapter adopted the industrial level electric circuit design, one DC-DC power chip and two external tantalum capacitors. As we might know, when signal is unstable or weak, modules will consumpt much more power especially for 4G modules. But if we still use normal LDO chip, the 4G module will be offline because it cannot meet the request of power consumption of 4G module at that time.
Working principle: the interface definition of Mini PCI-E is USB signal and 3.6V, the input voltage 5V by USB will be converted into 3.6V via DC-DC power chip to power on module and UIM/SIM card. (The working voltage of 3G/4G module is 3.3V-4.2V).
Specification
Basics
Dimension: 58mm(L)x38mm(W)
4PIN connector: pitch 1.25, 4PIN
The design of Mini PCI-E is compliant with industrial criteria V1.3.
Applicable for half & full height module(WWAN/3G/4G/WiFi Module).
LED indicator will be always on when it it working.
Pure hardware design, no driver needed.
Package Contents
1x 4G LTE Industrial Mini PCIe to USB Adapter(Packed in Antistatic Bag)
1x 3A Current Cable
2x Matched Screw
Compatible Module
LTE Cat 4

EC25-E

EC25-EU

EC25-EUX

EC25-J

Region/Operator
EMEA/South Korea/Thailand/India
EMEA/Thailand
EMEA/Thailand
Japan
Dimensions(mm)
30.0 x 51.0 x 4.9
30.0 x 51.0 x 4.9
30.0 x 51.0 x 4.9
30.0 x 51.0 x 4.9

Temperature Ranges

Operating Temperature
-35°C to +75°C
 -35°C to +75°C
 -35°C to +75°C
 -35°C to +75°C
Extended Temperature
 -40°C to +85°C
-40°C to +85°C
-40°C to +85°C
-40°C to +85°C

Frequency Bands

LTE-FDD
B1/B3/B5/B7/B8/B20
B1/B3/B7/B8/B20/B28A
B1/B3/B7/B8/B20/B28A
B1/B3/B8/B18/B19/B26
LTE-TDD
B38/B40/B41
B38/B40/B41
B38/B40/B41
B41
WCDMA
B1/B5/B8
B1/B8
B1/B8
B1/B6/B8/B19
GSM/EDGE
B3/B8
 B3/B8
 B3/B8
 /
GNSS
GPS/GLONASS/BeiDou (Compass)/
Galileo/QZSS (Optional)
GPS/GLONASS/BeiDou (Compass)/
Galileo/QZSS (Optional)
GPS/GLONASS/BeiDou (Compass)/
Galileo/QZSS (Optional)
GPS/GLONASS/BeiDou (Compass)/
Galileo/QZSS (Optional)

Certifications

Carrier
Global: Vodafone
Europe: Deutsche Telekom/Telefónica
South Korea: SKT/KT*/LGU+*
Europe: Deutsche Telekom/
British Telecom
/
Japan: NTT DOCOMO/SoftBank/KDDI
Regulatory
Global: GCF
Europe: CE
South Korea: KC
Taiwan (China): NCC
Australia/New Zealand: RCM
Thailand: NBTC
Russia: FAC
South Africa: ICASA
Global: GCF
Europe: CE
Taiwan (China): NCC
Australia/New Zealand: RCM
Global: GCF
Europe: CE
Taiwan (China): NCC
Australia/New Zealand: RCM
Japan: JATE/TELEC
Others
RoHS/WHQL
RoHS/WHQL
RoHS/WHQL
RoHS/WHQL

Data Transmission

LTE-FDD Data Rates (Mbps)
150 (DL)/ 50 (UL)
150 (DL)/ 50 (UL)
150 (DL)/ 50 (UL)
150 (DL)/ 50 (UL)
LTE-TDD Data Rates (Mbps)
130 (DL)/ 30 (UL)
130 (DL)/ 30 (UL)
130 (DL)/ 30 (UL)
130 (DL)/ 30 (UL)
DC-HSPA+ Data Rates (Mbps)
42 (DL)/ 5.76 (UL)
42 (DL)/ 5.76 (UL)
42 (DL)/ 5.76 (UL)
42 (DL)/ 5.76 (UL)
WCDMA Data Rates (kbps)
384 (DL)/ 384 (UL)
384 (DL)/ 384 (UL)
384 (DL)/ 384 (UL)
384 (DL)/ 384 (UL)
EDGE Data Rates (kbps)
296 (DL)/ 236.8 (UL)
296 (DL)/ 236.8 (UL)
296 (DL)/ 236.8 (UL)
/
GPRS Data Rates (kbps)
107 (DL)/ 85.6 (UL)
107 (DL)/ 85.6 (UL)
107 (DL)/ 85.6 (UL)
/

Interfaces

(U)SIM
x 1
x 1
x 1
x 1
UART
x 2
x 2
x 2
x 2
USB2.0
x 1
x 1
x 1
x 1
Audio Digital(PCM)
x 1
x 1
x 1
x 1
I2C
x 1
x 1
x 1
x 1
SDIO
x 2
x 2
x 1
x 2
SGMII
x 1
x 1
x 1
x 1
Bluetooth*
x 1
x 1
/
x 1
ADC
x 2
x 2
x 2
x 2

Voice

Speech Codec Modes
HR/FR/EFR/AMR/AMR-WB
HR/FR/EFR/AMR/AMR-WB
HR/FR/EFR/AMR/AMR-WB
HR/FR/EFR/AMR/AMR-WB
Echo Arithmetic
Echo Cancellation/Noise Suppression
Echo Cancellation/Noise Suppression
Echo Cancellation/Noise Suppression
Echo Cancellation/Noise Suppression
VoLTE
Digital Audio and VoLTE
(Voice over LTE) (Optional)
Digital Audio and VoLTE
(Voice over LTE) (Optional)
Digital Audio and VoLTE
(Voice over LTE) (Optional)
Digital Audio and VoLTE
(Voice over LTE) (Optional)

Enhanced Features

DTMF
●
●
●
●
DFOTA
●
●
●
●
QMI/RmNet
●
●
●
●
Audio Playback*/Audio Recording*
Optional
Optional
Optional
Optional
QuecLocator®
●
●
●
●
QuecFile®
●
●
●
●
(U)SIM Card Detection
●
●
●
●

Drivers

USB Serial Driver
Windows 7/8/8.1/10,
Linux 2.6–5.4,
Android 4.x–9.x
Windows 7/8/8.1/10,
Linux 2.6–5.4,
Android 4.x–9.x
Windows 7/8/8.1/10,
Linux 2.6–5.4,
Android 4.x–9.x
Windows 7/8/8.1/10,
Linux 2.6–5.4,
Android 4.x–9.x
GNSS Driver
Android 4.x–9.x
Android 4.x–9.x
Android 4.x–9.x
Android 4.x–9.x
RIL Driver
Android 4.x–10.x
Android 4.x–10.x
Android 4.x–10.x
Android 4.x–10.x
NDIS
Windows 7/8/8.1/10
Windows 7/8/8.1/10
Windows 7/8/8.1/10
Windows 7/8/8.1/10
MBIM
Windows 8/8.1/10,
Linux 3.18–5.4
Windows 8/8.1/10,
Linux 3.18–5.4
/
Windows 8/8.1/10,
Linux 3.18–5.4
GobiNet Driver
Linux 2.6–5.4
Linux 2.6–5.4
Linux 2.6–5.4
Linux 2.6–5.4
QMI_WWAN Driver
Linux 3.4–5.4
Linux 3.4–5.4
Linux 3.4–5.4
Linux 3.4–5.4

Electrical Features

Supply Voltage Range
3.0–3.6V, 3.3 V Typ.
3.0–3.6V, 3.3 V Typ.
3.0–3.6V, 3.3 V Typ.
3.0–3.6V, 3.3 V Typ.
Power Consumption
3.9 mA @ Sleep, Typ.
30 mA @ Idle
3.4 mA @ Sleep, Typ.
23.3 mA @ Idle
1.69 mA @ Sleep, Typ.
18.51 mA @ Idle
3.2 mA @ Sleep, Typ.
31.5 mA @ Idle
LTE Cat 4

EC25-A Mini PCIe

EC25-V Mini PCIe

EC25-AF Mini PCIe

EC25-AFX Mini PCIe

Region/Operator
North America
America Verizon
North America
North America
Dimensions(mm)
30.0 x 51.0 x 4.9
30.0 x 51.0 x 4.9
30.0 x 51.0 x 4.9
30.0 x 51.0 x 4.9

Temperature Ranges

Operating Temperature
-35°C to +75°C
 -35°C to +75°C
 -35°C to +75°C
 -35°C to +75°C
Extended Temperature
 -40°C to +85°C
-40°C to +85°C
-40°C to +85°C
-40°C to +85°C

Frequency Bands

LTE-FDD
B2/B4/B12
B4/B13
B2/B4/B5/B12/B13/B14/B66/
B2/B4/B5/B12/B13/B14/B66/B71
LTE-TDD
/
/
/
/
WCDMA
B2/B4/B5
/
B2/B4/B5
B2/B4/B5
GSM/EDGE
/
 /
 /
 /
GNSS
GPS/GLONASS/BeiDou (Compass)/
Galileo/QZSS (Optional)
GPS/GLONASS/BeiDou (Compass)/
Galileo/QZSS (Optional)
GPS/GLONASS/BeiDou (Compass)/
Galileo/QZSS (Optional)
GPS/GLONASS/BeiDou (Compass)/
Galileo/QZSS (Optional)

Certifications

Carrier
America: AT&T/T-Mobile
Canada: Rogers/Telus
America: Verizon
America: Verizon/
AT&T (FirstNet)/T-Mobile
Canada: Rogers/Telus
America: Verizon/
AT&T (FirstNet)*
Regulatory
America: FCC
North America: PTCRB
Canada: IC
Global: GCF
America:

FCC

Global: GCF
America: FCC
North America: PTCRB
Canada: IC
Global: GCF
America: FCC
North America: PTCRB
Canada: IC
Others
RoHS/WHQL
RoHS/WHQL
RoHS/WHQL
RoHS/WHQL

Data Transmission

LTE-FDD Data Rates (Mbps)
150 (DL)/ 50 (UL)
150 (DL)/ 50 (UL)
150 (DL)/ 50 (UL)
150 (DL)/ 50 (UL)
LTE-TDD Data Rates (Mbps)
/
/
/
/
DC-HSPA+ Data Rates (Mbps)
42 (DL)/ 5.76 (UL)
/
42 (DL)/ 5.76 (UL)
42 (DL)/ 5.76 (UL)
WCDMA Data Rates (kbps)
384 (DL)/ 384 (UL)
384 (DL)/ 384 (UL)
384 (DL)/ 384 (UL)
384 (DL)/ 384 (UL)
EDGE Data Rates (kbps)
/
/
/
/
GPRS Data Rates (kbps)
/
/
/
/

Interfaces

(U)SIM
x 1
x 1
x 1
x 1
UART
x 1
x 1
x 1
x 1
USB2.0
x 1
x 1
x 1
x 1
Audio Digital(PCM)
x 1
x 1
x 1
x 1
LED_WWAN#
x 1
x 1
x 1
x 1
W_DISABLE#
x 1
x 1
x 1
x 1
UART
x 1
x 1
x 1
x 1
PERST#
x 1
x 1
x 1
x 1

Voice

Speech Codec Modes
HR/FR/EFR/AMR/AMR-WB
HR/FR/EFR/AMR/AMR-WB
HR/FR/EFR/AMR/AMR-WB
HR/FR/EFR/AMR/AMR-WB
Echo Arithmetic
Echo Cancellation/Noise Suppression
Echo Cancellation/Noise Suppression
Echo Cancellation/Noise Suppression
Echo Cancellation/Noise Suppression
VoLTE
Digital Audio and VoLTE
(Voice over LTE) (Optional)
Digital Audio and VoLTE
(Voice over LTE) (Optional)
Digital Audio and VoLTE
(Voice over LTE) (Optional)
Digital Audio and VoLTE
(Voice over LTE) (Optional)

Enhanced Features

DTMF
●
●
●
●
DFOTA
●
●
●
●
QMI/RmNet
●
●
●
●
Audio Playback*/Audio Recording*
Optional
Optional
Optional
Optional
QuecLocator®
*
●
●
●
QuecFile®
●
●
●
●
(U)SIM Card Detection
●
●
●
●

Drivers

USB Serial Driver
Windows 7/8/8.1/10,
Linux 2.6–5.4,
Android 4.x–9.x
Windows 7/8/8.1/10,
Linux 2.6–5.4,
Android 4.x–9.x
Windows 7/8/8.1/10,
Linux 2.6–5.4,
Android 4.x–9.x
Windows 7/8/8.1/10,
Linux 2.6–5.4,
Android 4.x–9.x
GNSS Driver
Android 4.x–9.x
Android 4.x–9.x
Android 4.x–9.x
Android 4.x–9.x
RIL Driver
Android 4.x–10.x
Android 4.x–10.x
Android 4.x–10.x
Android 4.x–10.x
NDIS
Windows 7/8/8.1/10
Windows 7/8/8.1/10
Windows 7/8/8.1/10
Windows 7/8/8.1/10
MBIM
Windows 8/8.1/10,
Linux 3.18–5.4
Windows 8/8.1/10,
Linux 3.18–5.4
Windows 8/8.1/10,
Linux 3.18–5.4
Windows 8/8.1/10,
Linux 3.18–5.4
GobiNet Driver
Linux 2.6–5.4
Linux 2.6–5.4
Linux 2.6–5.4
Linux 2.6–5.4
QMI_WWAN Driver
Linux 3.4–5.4
Linux 3.4–5.4
Linux 3.4–5.4
Linux 3.4–5.4

Electrical Features

Supply Voltage Range
3.0–3.6V, 3.3 V Typ.
3.0–3.6V, 3.3 V Typ.
3.0–3.6V, 3.3 V Typ.
3.0–3.6V, 3.3 V Typ.
Power Consumption
3.6 mA @ Sleep, Typ.
27 mA @ Idle
3.4 mA @ Sleep, Typ.
30 mA @ Idle
2.2 mA @ Sleep, Typ.
21.7 mA @ Idle
1.67 mA @ Sleep, Typ.
22 mA @ Idle
LTE Cat 4

EC25-MX Mini PCIe

EC25-AU Mini PCIe

EC25-AUX Mini PCIe

EG25-G Mini PCIe

Region/Operator
Mexico
Latin America/Australia/New Zealand
Latin America/Australia/New Zealand
Global
Dimensions(mm)
30.0 x 51.0 x 4.9
30.0 x 51.0 x 4.9
30.0 x 51.0 x 4.9
30.0 x 51.0 x 4.9

Temperature Ranges

Operating Temperature
-35°C to +75°C
 -35°C to +75°C
 -35°C to +75°C
 -35°C to +75°C
Extended Temperature
 -40°C to +85°C
-40°C to +85°C
-40°C to +85°C
-40°C to +85°C

Frequency Bands

LTE-FDD
B2/B4/B5/B7/B28/B66
B1/B2①/B3/B4/B5/B7/B8/B28
B2/B4/B5/B12/B13/B14/B66/
B1/B2/B3/B4/B5/B7/B8/B12/B13/
B18/B19/B20/B25/B26/B28
LTE-TDD
/
B40
B40
B38/B39/B40/B41
WCDMA
B2/B4/B5
B1/B2/B5/B8
B1/B2/B4/B5/B8
B1/B2/B4/B5/B6/B8/B19
GSM/EDGE
/
B2/B3/B5/B8
B2/B3/B5/B8
B2/B3/B5/B8
GNSS
/
GPS/GLONASS/BeiDou (Compass)/
Galileo/QZSS (Optional)
GPS/GLONASS/BeiDou (Compass)/
Galileo/QZSS (Optional)
GPS/GLONASS/BeiDou (Compass)/
Galileo/QZSS (Optional)

Certifications

Carrier
/
Australia: Telstra
/
Europe: Deutsche Telekom
America: Verizon/AT&T/U.S. Cellular
Canada: Telus/Rogers*
Regulatory
America: FCC
North America: PTCRB
Mexico: IFETEL
Global: GCF
America: FCC
Taiwan (China): NCC
Brazil: Anatel
Australia/New Zealand: RCM
Europe: CE
America: FCC
Taiwan (China): NCC
Brazil: Anatel
Australia/New Zealand: RCM
Global: GCF
Europe: CE
UK: UKCA
North America: PTCRB
America: FCC
Canada: IC
Brazil: Anatel
Mexico: IFETEL 
South Korea: KC
Taiwan(China): NCC
Japan: JATE/TELEC
Australia & New Zealand: RCM
South Africa: ICASA
Others
RoHS/WHQL
RoHS/WHQL
RoHS/WHQL
RoHS/WHQL

Data Transmission

LTE-FDD Data Rates (Mbps)
150 (DL)/ 50 (UL)
150 (DL)/ 50 (UL)
150 (DL)/ 50 (UL)
150 (DL)/ 50 (UL)
LTE-TDD Data Rates (Mbps)
/

130 (DL)/ 30 (UL)

130 (DL)/ 30 (UL)

130 (DL)/ 30 (UL)

DC-HSPA+ Data Rates (Mbps)
42 (DL)/ 5.76 (UL)
42 (DL)/ 5.76 (UL)
42 (DL)/ 5.76 (UL)
42 (DL)/ 5.76 (UL)
WCDMA Data Rates (kbps)
384 (DL)/ 384 (UL)
384 (DL)/ 384 (UL)
384 (DL)/ 384 (UL)
384 (DL)/ 384 (UL)
EDGE Data Rates (kbps)
/
296 (DL)/ 236.8 (UL)
296 (DL)/ 236.8 (UL)
296 (DL)/ 236.8 (UL)
GPRS Data Rates (kbps)
/
107 (DL)/ 85.6 (UL)
107 (DL)/ 85.6 (UL)
107 (DL)/ 85.6 (UL)

Interfaces

(U)SIM
x 1
x 1
x 1
x 1
UART
x 1
x 1
x 1
x 1
USB2.0
x 1
x 1
x 1
x 1
Audio Digital(PCM)
x 1
x 1
x 1
x 1
LED_WWAN#
x 1
x 1
x 1
x 1
W_DISABLE#
x 1
x 1
x 1
x 1
UART
x 1
x 1
x 1
x 1
PERST#
x 1
x 1
x 1
x 1

Voice

Speech Codec Modes
HR/FR/EFR/AMR/AMR-WB
HR/FR/EFR/AMR/AMR-WB
HR/FR/EFR/AMR/AMR-WB
HR/FR/EFR/AMR/AMR-WB
Echo Arithmetic
Echo Cancellation/Noise Suppression
Echo Cancellation/Noise Suppression
Echo Cancellation/Noise Suppression
Echo Cancellation/Noise Suppression
VoLTE
Digital Audio and VoLTE
(Voice over LTE) (Optional)
Digital Audio and VoLTE
(Voice over LTE) (Optional)
Digital Audio and VoLTE
(Voice over LTE) (Optional)
Digital Audio and VoLTE
(Voice over LTE) (Optional)

Enhanced Features

DTMF
●
●
●
●
DFOTA
●
●
●
●
QMI/RmNet
●
●
●
●
Audio Playback*/Audio Recording*
Optional
Optional
Optional
Optional
QuecLocator®
●
●
●
●
QuecFile®
●
●
●
●
(U)SIM Card Detection
●
●
●
●

Drivers

USB Serial Driver
Windows 7/8/8.1/10,
Linux 2.6–5.4,
Android 4.x–9.x
Windows 7/8/8.1/10,
Linux 2.6–5.4,
Android 4.x–9.x
Windows 7/8/8.1/10,
Linux 2.6–5.4,
Android 4.x–9.x
Windows 7/8/8.1/10,
Linux 2.6–5.4,
Android 4.x–9.x
GNSS Driver
/
Android 4.x–9.x
Android 4.x–9.x
Android 4.x–9.x
RIL Driver
Android 4.x–10.x
Android 4.x–10.x
Android 4.x–10.x
Android 4.x–10.x
NDIS
Windows 7/8/8.1/10
Windows 7/8/8.1/10
Windows 7/8/8.1/10
Windows 7/8/8.1/10
MBIM
/
Windows 8/8.1/10,
Linux 3.18–5.4
/
Windows 8/8.1/10,
Linux 3.18–5.4
GobiNet Driver
Linux 2.6–5.4
Linux 2.6–5.4
Linux 2.6–5.4
Linux 2.6–5.4
QMI_WWAN Driver
Linux 3.4–5.4
Linux 3.4–5.4
Linux 3.4–5.4
Linux 3.4–5.4

Electrical Features

Supply Voltage Range
3.0–3.6V, 3.3 V Typ.
3.0–3.6V, 3.3 V Typ.
3.0–3.6V, 3.3 V Typ.
3.0–3.6V, 3.3 V Typ.
Power Consumption
1.55 mA @ Sleep, Typ.
20 mA @ Idle
2.6 mA @ Sleep, Typ.
22 mA @ Idle
1.9 mA @ Sleep, Typ.
23.4 mA @ Idle
1.9 mA @ Sleep, Typ.
23.4 mA @ Idle
Technical Support