5G LTE Router with SIM Card Slot, Dual Band Wi-Fi 6 Router, Industrial 802.11ax Router, Up to 1.8Gbps, 3x Gigabit LAN Ports, OFDMA, MU-MIMO
Regular price
$786.57 USD
Regular price
$796.57 USD
Sale price
$786.57 USD
Unit price
/
per
Sold out
Share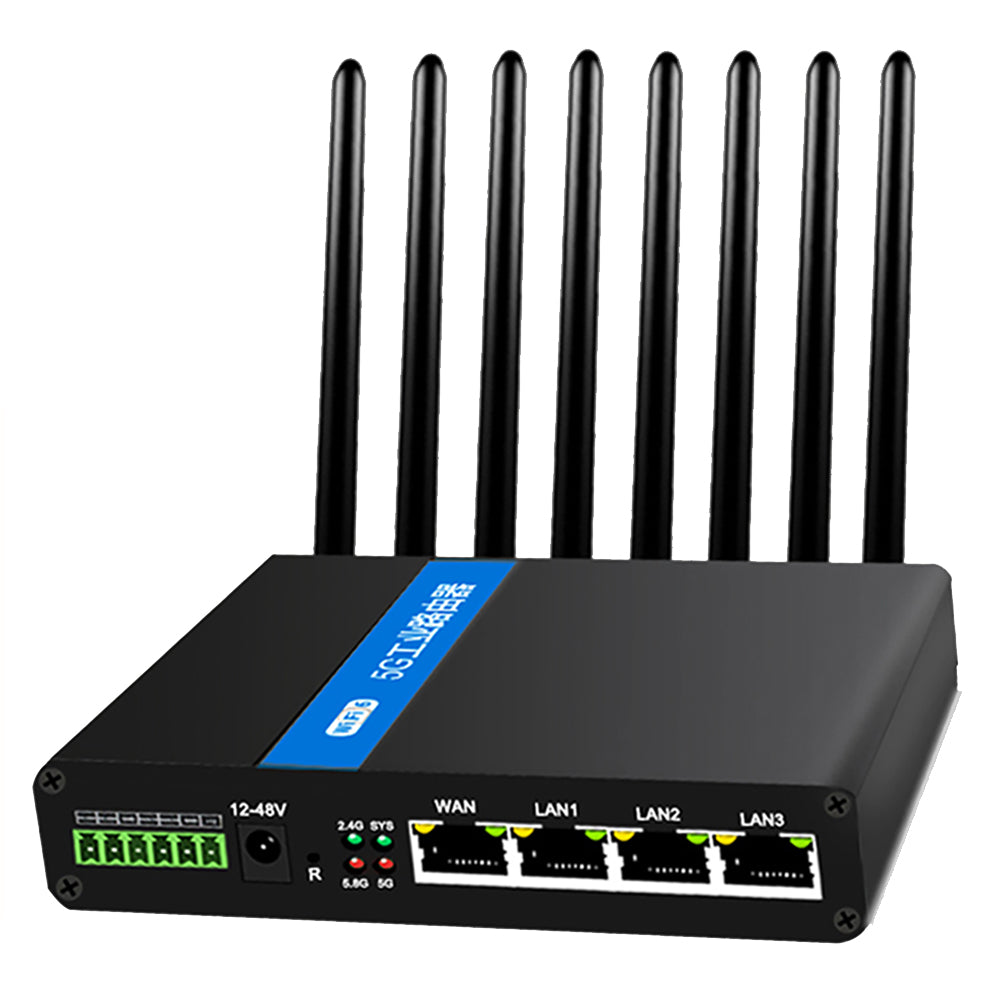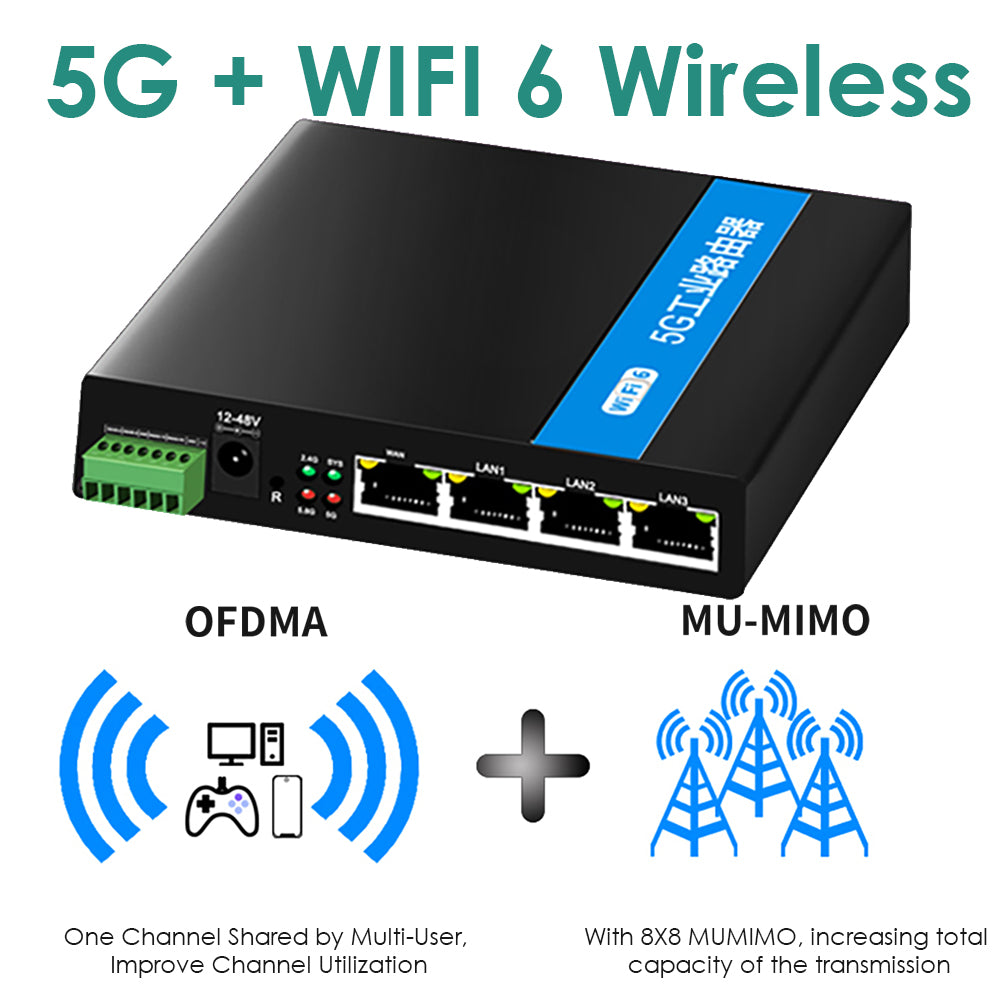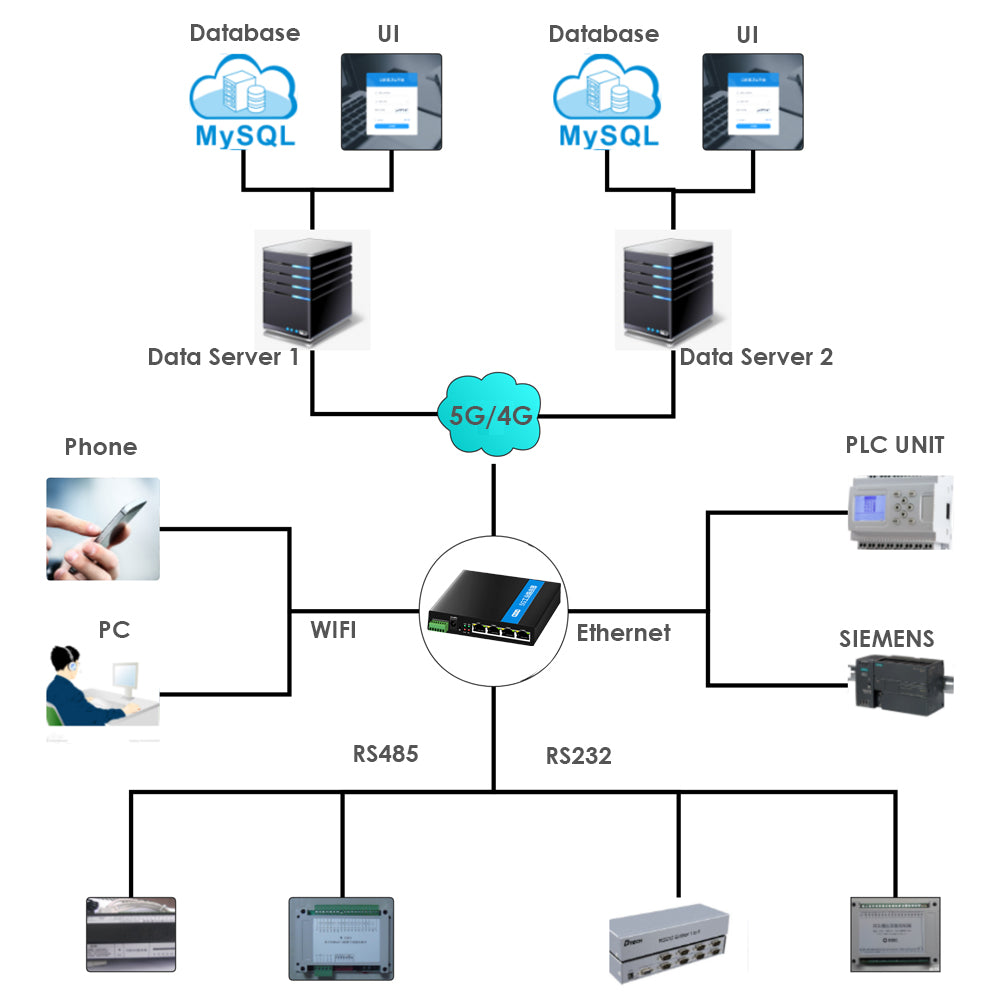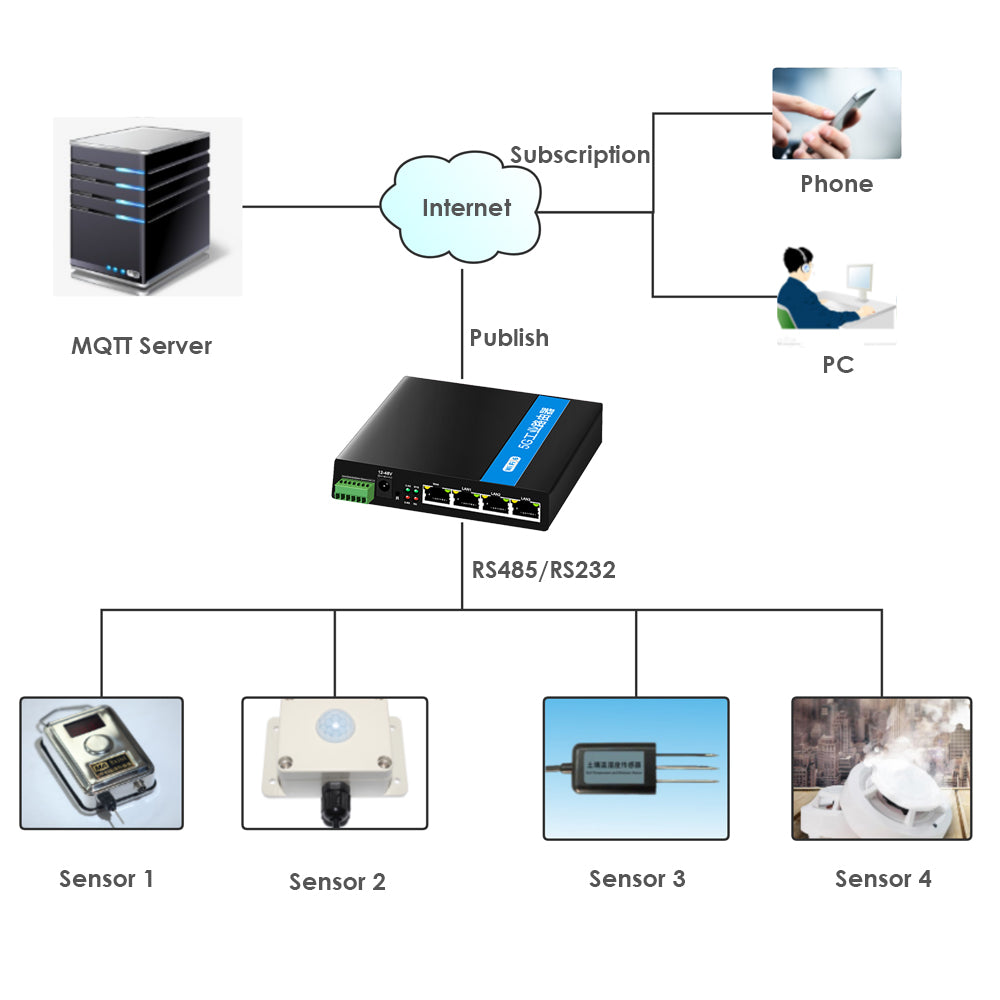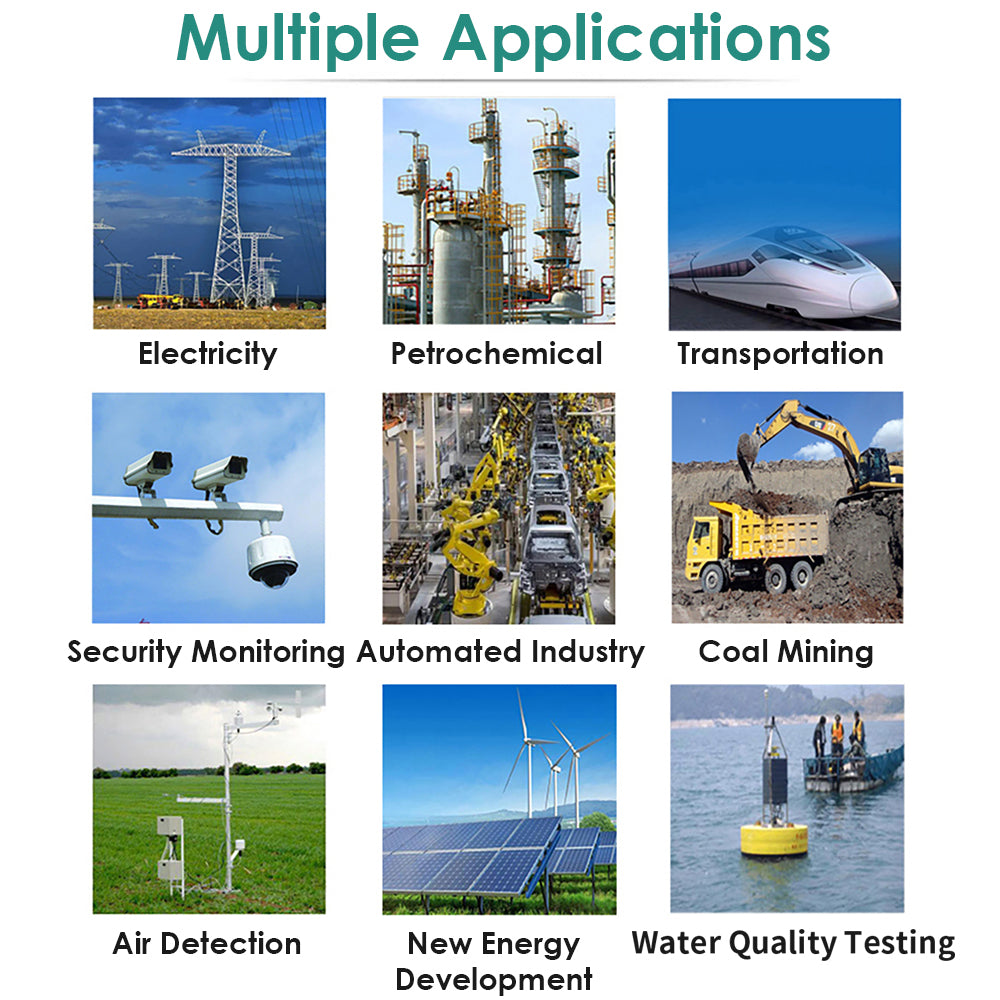 Overview
JTOKEN 5G industrial routers use high-performance industrial- grade 32-bit communication processors and industrial-grade wireless modules to ensure that the product can run stably for a long time in harsh environments without fear of challenges.
Rugged metal shell, high protection, wide temperature and wide voltage, EMC4 level, can withstand extreme tempera -ture, voltage instability, high electromagnetic radiation,rain and dust attack and other harsh conditions, to ensure continuous communication between remote equipment and monitoring center.
Support NSA and SA networks,compatible with all operators, including TD-LTE/FDD-LTE/TD-SCDMA/WCDMA/EVDO/CDMA1X /GPRS/EDGE and other seven network standards, can flexibly switch operators according to operational needs, more con -venient to select network and traffic are more economical.
Widely used in the M2M industry, such as smart factories, smart medical, smart ports, new media video transmission etc.
In the field of industrial control, it supports VPN function and serial port transparent transmission function, and provides remote upload and download programs and remote connection functions for various brands of PLC.
Key Benefits
880MHz, Memory 128~256MB, Flash 16~32MB;
Adopt high-performance Qualcomm or Zhanrui 5G industrial -grade wireless module, support NSA+SA networking;
Dual serial port design, 1x RS232, 1x RS485, support serial port transparent transmission and serial command;
High-speed network port, 1x Gigabit WAN, 3x Gigabit LAN Support 12-48V DC wide voltage power supply;
Support APN/VPN (PPTP/L2TP/OPENVPN), private network group network frequency lock function; WDT watchdog design, timing restart, network disconnection detection function, to ensure system stability;
Built-in 1.5KV electromagnetic isolation protection for LAN port; Intranet penetration, base station positioning, channel optimization, high speed and low latency, remote control.
Specification
Hardware Performance
| | |
| --- | --- |
| CPU | Dual-core four threads 880Mhz frequency; |
| Memory | On-board SMD DDR3 128MB, Expandable up to 512MB; |
| Flash | 16MB Nor Flash; |
| WIFI | 802.11ax (Wi-Fi 6), Max Data Transmission Rate Up to 1800Mbps, Dual Bands 2.4GHz and 5.8GHz; |
| Network Supported | Industrial Grade 5G IoT Modules |
| System Time | NTP, Built-in RTC |
Interfaces
WAN
1x WAN Port
LAN
3x LAN Ports(10M/100M/1000M Adaptive MDI MDIX Port)
SIM Card Slot
1x Drawer SIM Card Slot, Supports SIM/UIM Card in 1.8V/3V
USB
Not Supported
Reset
1x Reset Button
Antenna Ports

4x 4G/5G Antenna, Impedance 50 Ohms, SMA Internal Hole Interface;
2x 2.4GHz Wi-Fi Antenna, Impedance 50 Ohms, SMA Internal Hole Interface;
2x 5.8GHz Wi-Fi Antenna, Impedance 50 Ohms, SMA Internal Hole Interface;

Power Connector
1x 2PIN PH3.81 Connector
Console Port
1x Built-in Console Port
Indicators
4x Indicators(1x 5G, 1x SYS, 2x Wi-Fi)
Parameters of Power Supply
| | |
| --- | --- |
| Power Supply | External Power Adapter(DC 12V 2A) |
| Working Voltage | Wide Voltage Input DC 9V~36V |
| Standby Consumption | 300~500mA@12V DC |
| Working Consumption | 500~700mA@12V DC |
Working Conditions
| | |
| --- | --- |
| Working Temperature | -40°C ~ +85°C (-40°F ~ +185°F) |
| Storage Temperature | -40°C ~ +85°C (-40°F ~ +185°F) |
| Working Humidity | 5%~95%(Non-condensing) |
| Device Ventilation | Natual Heat Dissipation, No Noise |
Physical Parameters
Chassis
Metal Chassis
Dimensions
155mm(L) x 115mm(W) x 29mm(H) (Antennas Excluded)
Installation
Rail Mounted, Wall Mounted
Weight

N.W.: 0.47kg (Antennas and Accessories Excluded)
G.W.: 0.85kg (Antennas and Accessories Included)

Safety and Reliability

Power Inverting Protection, Overvoltage Protection, Overcurrent Protection, Built-in 1.5KV Electromagnetic Isolation Protection of Ethernet Port;
Built-in 15KV ESD Protection of RS232/RS485; Built-in 15KV ESD Protection of SIM/UIM Card Interface;

Protection Level
IP45
Certification
CCC, RoHS
MTBF
>100,000 hours
Software Features
| | |
| --- | --- |
| Network Access | APN, VPDN Supported |
| Access Authentication | CHAP/PAP Certification Supported |
| Network Mode | GSM/GPRS/EDGE, LIMTS/HAPA+/EVDO/TD-SCDMA/TD LTE/FDD LTE/5G NR |
| LAN Protocol | ARP, Ethernet Supported |
| WAN Protocol | Static IP, DHCP, PPPoE, PPP Supported |
| IP Applications | PING, Trace, DHCP Server, DHCP Relay, DHCP Client, DNS Relay, DDNS, Telnet Supported |
| IP Routing | Routing Supported |
| NAT | Supported |
| Industrial Protocol | IEC101/104 Regulations, 212 Environmental Protection Protocol, MQTT, MUDBUS and other industrial protocols are supported |
Network Security
| | |
| --- | --- |
| Firewall | Full Status Packet Inspection(SPI), Protection Against Denial of Service (DOS) Attacks, Filtering Multicast/Ping Packets, Access Control Lists(ACL), Content URL Filtering, Port Mapping, Virtual IP Mapping, IP-MAC Binding |
| Data Security | IPsec VPN /L2TP/PPTP/GRE/OPEN VPN/CA Certificate |
Reliability
| | |
| --- | --- |
| Backup Function | Wired, Dual 5G Three-Way Mutual Backup |
| Link Online Monitoring | Send heartbeat packet detection, disconnection automatically connected |
| Embedded Watchdog | Self-test technology, Self-pairing when any failure |
Wi-Fi(Integrated)
| | |
| --- | --- |
| Protocols | IEEE 802.11 b/g/n/ac/wifi6 ax |
| Transmission Rate | Up to 1.8Gbps |
| Security | Open Systems, Shared Key, WPA/WPA2 Authentication, WEP/TKIP/AES Encryption |
| Working Mode | AP, Client Working Mode |
| Transmission Distance | 100m(Depends on the actual environment) |
Intelligent
DTU Integration

TCP/UDP Transparent Transmission Mode;
TCP Server Mode;
Modbus RTU to Modbus TCP Bridge;
DCUDP, DCTCP Mode
Network Management
| | |
| --- | --- |
| QOS Management | Bandwidth Limit, IP Speed Limit |
| Configuration Method | By Telnet, Web, SSH and Console |
| Upgrade Method | Web Upgrades and FOTA |
| Log | Local System Logs, Remote Logs, Serial Output Logs, Important Logs Saved when Powered off |
| SMS | Status Query, Configuration, Restart |
| Dial-on-Demand | Dial-on-demand, Data Activation, SMS Activation |
| Network Management | STAR Device Manager Network Management Platform Supported, Batch Management |
| Simple Network Management | SNMP v1/v2c/v3 and SNMP TRAP |
| Traffic Management | Traffic Threshold Setting, Traffic Statistics and Traffic Alarms |
| Alarm | System Restart, LAN Port Online and Offline, Traffic Alarm, SIM Card Failure Alarm and other alarms |
| Maintenance | Ping, Route Tracing, Internet Speed Testing |
| Status Query | System Status, Modem Status, Network Connection Status, Routing Status |
Operation Band
5G Sub-6

RM500Q-AE

RM502Q-AE

RM505Q-AE

RM500Q-GL

RM502Q-GL

RM510Q-GL
Region/Operator
Global(Except for China)
Global(Except for China)
Global(Except for China)
Global(Except for United States)
Global(Except for United States/China/Japan)
Global
Dimensions(mm)
52.0 x 30.0 x 2.3
52.0 x 30.0 x 2.3
52.0 x 30.0 x 2.3
52.0 x 30.0 x 2.3
52.0 x 30.0 x 2.3
52.0 x 30.0 x 2.3
Weight(g)
8.7
8.7
8.7
8.7
9.0
9.1
Supply Voltage Range
3.135–4.4 V, typical 3.7 V
3.135–4.4 V, typical 3.7 V
3.135–4.4 V, typical 3.7 V
3.135–4.4 V, typical 3.7 V
3.135–4.4 V, typical 3.7 V
3.135–4.4 V, typical 3.7 V
Power Consumption
80 μA @ Power down
4.2 mA @ Sleep
32 mA @ USB 2.0, Idle
52 mA @ USB 3.0, Idle
80 μA @ Power down
4.2 mA @ Sleep
32 mA @ USB 2.0, Idle
52 mA @ USB 3.0, Idle
82 μA @ Power down
4.2 mA @ Sleep
32 mA @ USB 2.0, Idle
52 mA @ USB 3.0, Idle
70 μA @ Power down
4.0 mA @ Sleep
32 mA @ USB 2.0, Idle
52 mA @ USB 3.0, Idle
70 μA @ Power down
4.0 mA @ Sleep
32 mA @ USB 2.0, Idle
52 mA @ USB 3.0, Idle
80 μA @ Power down
4.2 mA @ Sleep
32 mA @ USB 2.0, Idle
54.5 mA @ USB 3.0, Idle

Temperature Range

Operation Temperature
-30°C to +75°C
-30°C to +75°C
-30°C to +75°C
-30°C to +75°C
-30°C to +75°C
-30°C to +75°C
Extended Temperature
-40°C to +85°C
-40°C to +85°C
-40°C to +85°C
-40°C to +85°C
-40°C to +85°C
-40°C to +85°C

Frequency Bands

5G NR-NSA

n1/n2/n3/n5/n7/n8/n12/n20/
n25/n28/n38/n40/n41/n48*/
n66/n71/n77/n78/n79

n1/n2/n3/n5/n7/n8/n12/n20/
n25/n28/n38/n40/n41/n48*/
n66/n71/n77/n78/n79

n1/n2/n3/n5/n7/n8/n12/n20/
n25/n28/n38/n40/n41/n48*/
n66/n71/n77/n78/n79

n41/n77/n78/n79
n38/n41/n77/n78

n1/n2/n3/n5/n7/n8/n12/n20/n25/n28/
n38/n40/n41/n48*/n66/n71/n77/n78/
n79/n257①/n258①/n260①/n261

5G NR-SA

n1/n2/n3/n5/n7/n8/n12/n20/
n25/n28/n38/n40/n41/n48*/
n66/n71/n77/n78/n79

n1/n2/n3/n5/n7/n8/n12/n20/
n25/n28/n38/n40/n41/n48*/
n66/n71/n77/n78/n79

n1/n2/n3/n5/n7/n8/n12/n20/
n25/n28/n38/n40/n41/n48*/
n66/n71/n77/n78/n79

n1/n2/n3/n5/n7/n8/n12/n20/
n25/n28/n38/n40/n41/n48*/
n66/n71/n77/n78/n79

n1/n2/n3/n5/n7/n8/n12/n20/
n25/n28/n38/n40/n41/n48/
n66/n71/n77/n78

n1/n2/n3/n5/n7/n8/n12/n20/
n25/n28/n38/n40/n41/n48*/
n66/n71/n77/n78/n79

5G MIMO
DL: 4×4 on n1/n2/n3/n7/n25/n38/n40/
           n41/n48/n66/n77/n78/n79
UL: 2×2 on n41
DL: 4×4 on n1/n2/n3/n7/n25/n38/n40/
           n41/n48/n66/n77/n78/n79
UL: 2×2 on n41
DL: 4×4 on n1/n2/n3/n7/n25/n38/n40/
           n41/n48/n66/n77/n78/n79
UL: 2×2 on n41
DL: 4×4 on n1/n2/n3/n7/n25/n38/n40/
           n41/n48/n66/n77/n78/n79
UL: 2×2 on n41/n77/n78/n79
DL: 4×4 on n1/n2/n3/n7/n25/n38/n40/
           n41/n48/n66/n77/n78/
UL: 2×2 on n41/n77/n78
DL: 4×4 on n1/n2/n3/n7/n25/n38/n40/
           n41/n48*/n66/n77/n78/n79
UL: 2×2 on n41/n257/n258/n260/n261
LTE Category
DL Cat 16 / UL Cat 18
DL Cat 20 / UL Cat 18
DL Cat 16 / UL Cat 18
DL Cat 16 / UL Cat 18
DL Cat 20 / UL Cat 18
DL Cat 20 / UL Cat 18
LTE-FDD

B1/B2/B3/B4/B5/B7/B8/
B12(B17)/B13/B14/B18/B19/
B20/B25/B26/B28/B29/B30/
B32/B66/B71

B1/B2/B3/B4/B5/B7/B8/
B12(B17)/B13/B14/B18/B19/
B20/B25/B26/B28/B29/B30/
B32/B66/B71

B1/B2/B3/B4/B5/B7/B8/
B12(B17)/B13/B14/B18/B19/
B20/B25/B26/B28/B29/B30/
B32/B66/B71

B1/B2/B3/B4/B5/B7/B8/B12/
B13/B14/B17/B18/B19/B20/
B25/B26/B28/B29/B30/B32/
B66/B71

B1/B2/B3/B4/B5/B7/B8/B12/
B13/B14/B17/B18/B19/B20/
B25/B26/B28/B29/B30/B32/
B66/B71

B1/B2/B3/B4/B5/B7/B8/B12/
(B17)/B13/B14/B18/B19/B20/
B25/B26/B28/B29/B30/B32
/B66/B71

LTE-TDD

B34/B38/B39/B40/B41/B42/
B43/B48

B34/B38/B39/B40/B41/B42/
B43/B48

B34/B38/B39/B40/B41/B42/
B43/B48

B34/B38/B39/B40/B41/B42/
B43/B48

B34/B38/B39/B40/B41/B42/
B43/B48

B34/B38/B39/B40/B41/B42/
B43/B48

LAA
B46 (only support 2×2 MIMO)
B46 (only support 2×2 MIMO) 
B46 (only support 2×2 MIMO) 
B46
B46
B46 (only supported for DL 2 × 2 MIMO)
LTE DL4 x 4 MIMO

B1/B2/B3/B4/B7/B25/
B30/B32/B34/B38/B39/B40/
B41/B42/B43/B48/B66

B1/B2/B3/B4/B7/B25/
B30/B32/B34/B38/B39/B40/
B41/B42/B43/B48/B66

B1/B2/B3/B4/B7/B25/
B30/B32/B34/B38/B39/B40/
B41/B42/B43/B48/B66

B1/B2/B3/B4/B7/B25/
B30/B32/B34/B38/B39/B40/
B41/B42/B43/B48/B66

B1/B2/B3/B4/B7/B25/
B30/B32/B34/B38/B39/B40/
B41/B42/B43/B48/B66

WCDMA
B1/B2/B3/B4/B5/B6/B8/B19
B1/B2/B3/B4/B5/B6/B8/B19
B1/B2/B3/B4/B5/B6/B8/B19
B1/B2/B3/B4/B5/B6/B8/B19
B1/B2/B3/B4/B5/B6/B8/B19
B1/B2/B3/B4/B5/B6/B8/B19
GNSS
GPS/GLONASS/
BeiDou(Compass)/Galileo
GPS/GLONASS/
BeiDou(Compass)/Galileo
GPS/GLONASS/
BeiDou(Compass)/Galileo
GPS/GLONASS/
BeiDou(Compass)/Galileo
GPS/GLONASS/
BeiDou(Compass)/Galileo
GPS/GLONASS/
BeiDou(Compass)/Galileo

Certifications

Regulatory
GCF/ CE/ PTCRB/ FCC/ IC/
NCC/ JATE/ TELEC/ RCM
GCF/ CE/ PTCRB/ FCC/ IC/
JATE/ TELEC/ RCM
GCF / CE/ PTCRB/ FCC/ IC/
JATE/ TELEC/ RCM
GCF/ CE/ SRRC/CCC/ NAL/ KC/
RCM
GCF / CE / PTCRB/ FCC/ IC/
RCM
GCF / CE / PTCRB/ FCC/ IC/
RCM
Carrier
Deutsche Telekom*/
Verizon*/ AT&T/ T-Mobile*/
Telstra*
Verizon*/ AT&T/ T-Mobile/
Telstra
Verizon*/ AT&T/ T-Mobile*/
Telstra*
Deutsche Telekom*/ China
Telecom/ China Mobile/ China
Unicom/ KT/ SKT*/ LGU+
TBD
Verizon*/ AT&T*/ T-Mobile*/
Telstra*
Others
RoHS/WHQL
RoHS/WHQL
RoHS/WHQL
RoHS/WHQL
RoHS/WHQL
RoHS/WHQL

Data Rate (Max.)①

5G SA Sub-6
DL 2.1 Gbps; UL 450 Mbps
DL 4.2 Gbps; UL 450 Mbps
DL 2.1 Gbps; UL 450 Mbps
DL 2.1 Gbps; UL 900 Mbps
DL 4.2 Gbps; UL 900 Mbps 
DL 4.2 Gbps; UL 450 Mbps
5G NSA Sub-6
DL 2.5 Gbps; UL 600/650 Mbps ②
DL 5.0 Gbps; UL 600/650 Mbps ②
DL 2.5 Gbps; UL 600/650 Mbps ②
DL 2.5 Gbps; UL 600/650 Mbps ②
DL 5.0 Gbps; UL 600/650 Mbps ②
DL 5.0 Gbps; UL 600/650 Mbps ③
LTE
DL 1.0 Gbps; UL 200 Mbps
DL 2.0 Gbps; UL 200 Mbps
DL 1.0 Gbps; UL 200 Mbps
DL 1.0 Gbps; UL 200 Mbps
DL 2.0 Gbps; UL 200 Mbps
 

DL 2.0 Gbps; UL 200 Mbps

WCDMA
DL 42 Mbps; UL 5.76 Mbps
DL 42 Mbps; UL 5.76 Mbps
DL 42 Mbps; UL 5.76 Mbps
DL 42 Mbps; UL 5.76 Mbps
DL 42 Mbps; UL 5.76 Mbps
DL 42 Mbps; UL 5.76 Mbps

Interface

(U)SIM
x 1
x 1
x 2 (Dual SIM Single Standby)
x 2 (Dual SIM Single Standby)
x 2 (Dual SIM Single Standby)
x 1
USB 2.0
x 1
x 1
x 1
x 1
x 1
x 1
USB 3.0/3.1
x 1
x 1
x 1
x 1
x 1
x 1
PCIe 3.0
x 1
x 1
x 1
x 1
x 1
x 1
PCM
x 1
x 1
x 1
x 1
x 1
x 1
Antenna
Cellular: × 3
Cellular + GNSS L1: × 1
Cellular: × 3
Cellular + GNSS L1: × 1
Cellular: × 4
GNSS L1&L5: × 1
Cellular: × 3
Cellular + GNSS L1: × 1
Cellular: × 3
Cellular + GNSS L1: × 1
Sub-6 GHz × 4;
mmWave × 8
Voice
 
 
 
 
 
 
Digital Audio & VoLTE
○
○
○
○
-
○

Enhanced Features

eSIM*
○
○
○
○
○
○
DTMF*
●
●
●
●
●
●
DFOTA*
●
●
●
●
●
●
(U)SIM Card Detection
●
●
●
●
●
●
Drivers
USB Serial Driver
Windows 7/8/8.1/10
Linux 2.6–5.4
Android 4.x/5.x/6.x/7.x/8.x/9.x/10
Windows 7/8/8.1/10
Linux 2.6–5.4
Android 4.x/5.x/6.x/7.x/8.x/9.x/10
Windows 7/8/8.1/10
Linux 2.6–5.4
Android 4.x/5.x/6.x/7.x/8.x/9.x/10
Windows 7/8/8.1/10
Linux 2.6–5.4
Android 4.x/5.x/6.x/7.x/8.x/9.x/10
Windows 7/8/8.1/10
Linux 2.6–5.4
Android 4.x/5.x/6.x/7.x/8.x/9.x/10
Windows 7/8/8.1/10
Linux 2.6–5.4
Android 4.x/5.x/6.x/7.x/8.x/9.x/10
GNSS Driver
Android 4.x/5.x/6.x/7.x/8.x/9.x/10
Android 4.x/5.x/6.x/7.x/8.x/9.x/10
Android 4.x/5.x/6.x/7.x/8.x/9.x/10
Android 4.x/5.x/6.x/7.x/8.x/9.x/10
Android 4.x/5.x/6.x/7.x/8.x/9.x/10
Android 4.x/5.x/6.x/7.x/8.x/9.x/10
RIL Driver
Android 4.x/5.x/6.x/7.x/8.x/9.x/10
Android 4.x/5.x/6.x/7.x/8.x/9.x/10
Android 4.x/5.x/6.x/7.x/8.x/9.x/10
Android 4.x/5.x/6.x/7.x/8.x/9.x/10
Android 4.x/5.x/6.x/7.x/8.x/9.x/10
Android 4.x/5.x/6.x/7.x/8.x/9.x/10
NDIS Driver
Windows 7/8/8.1/10
Windows 7/8/8.1/10
Windows 7/8/8.1/10
Windows 7/8/8.1/10
Windows 7/8/8.1/10
Windows 7/8/8.1/10
MBIM Driver
Windows 10
Linux 3.18–5.4
Windows 10
Linux 3.18–5.4
Windows 10
Linux 3.18–5.4
Windows 10
Linux 3.18–5.4
Windows 10
Linux 3.18–5.4
Windows 10
Linux 3.18–5.4
GobiNet Driver
Linux 2.6–5.4
Linux 2.6–5.4
Linux 2.6–5.4
Linux 2.6–5.4
Linux 2.6–5.4
Linux 2.6–5.4
QMI_WWAN Driver
Linux 3.4–5.4
Linux 3.4–5.4
Linux 3.4–5.4
Linux 3.4–5.4
Linux 3.4–5.4
Linux 3.4–5.4
User Manual