Dual SIM 4G/5G LTE Industrial WiFi Wireless Router W/2.4G 5.8G Dual Gigabite WiFi Gigabit Network Card
Regular price
$373.57 USD
Regular price
$383.57 USD
Sale price
$373.57 USD
Unit price
/
per
Sold out
Share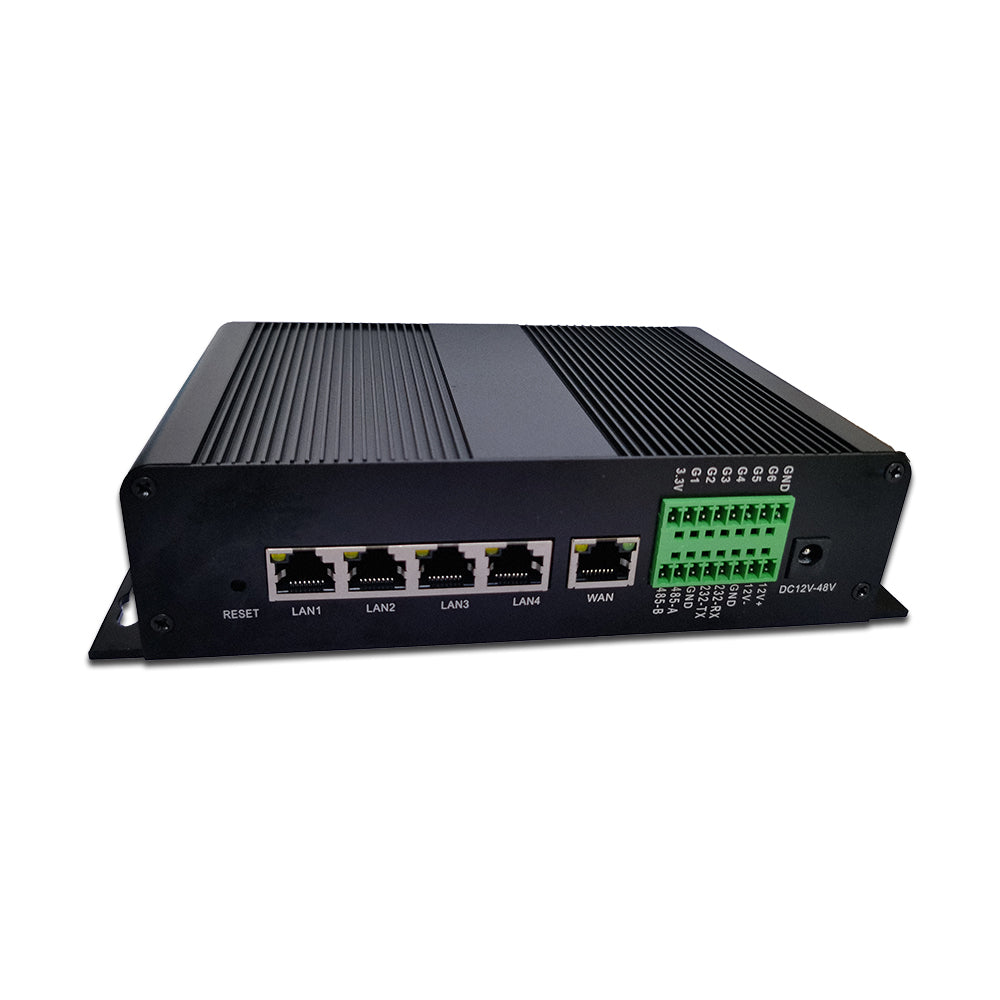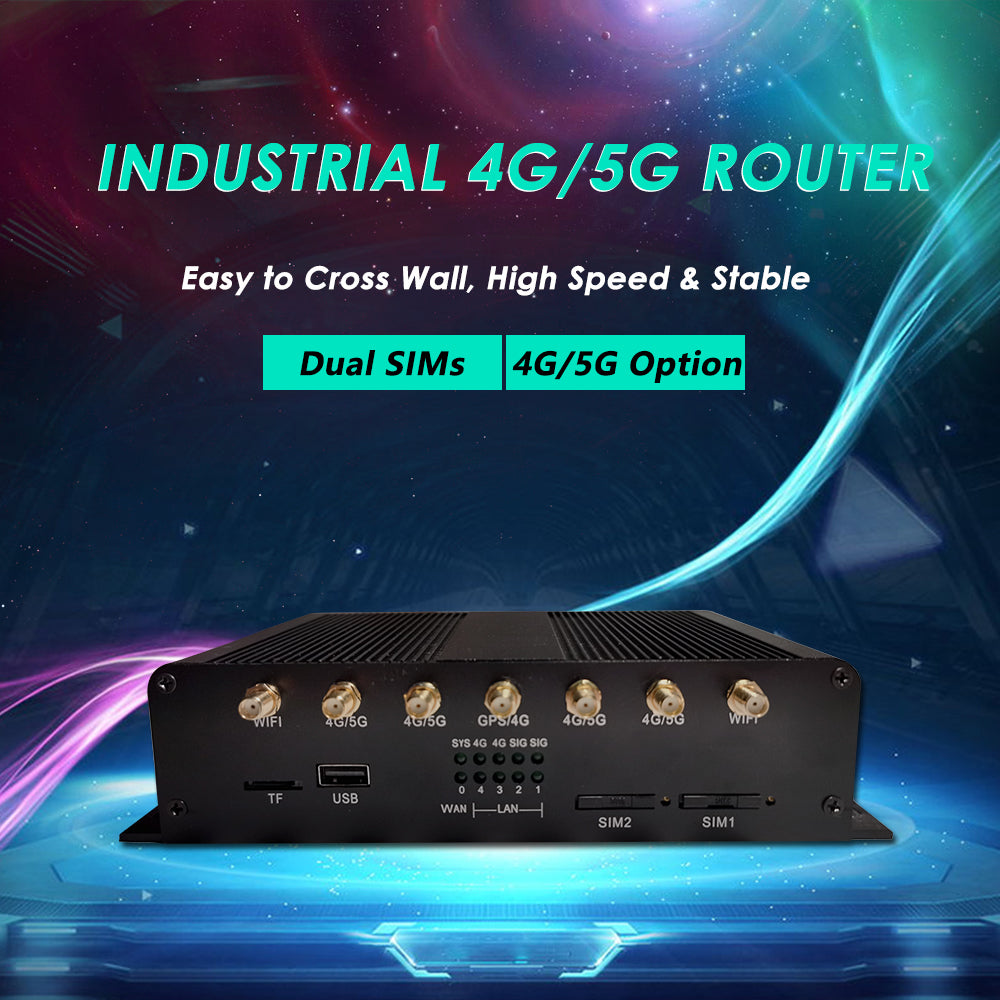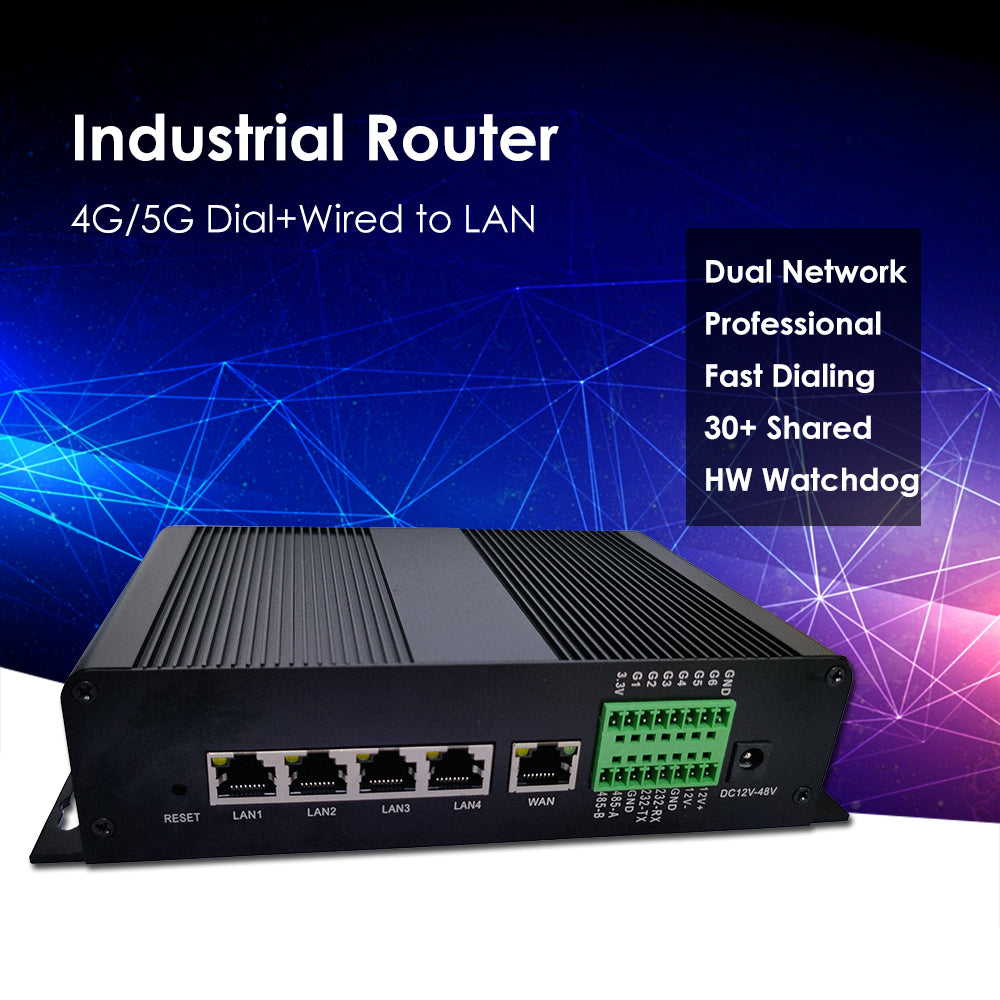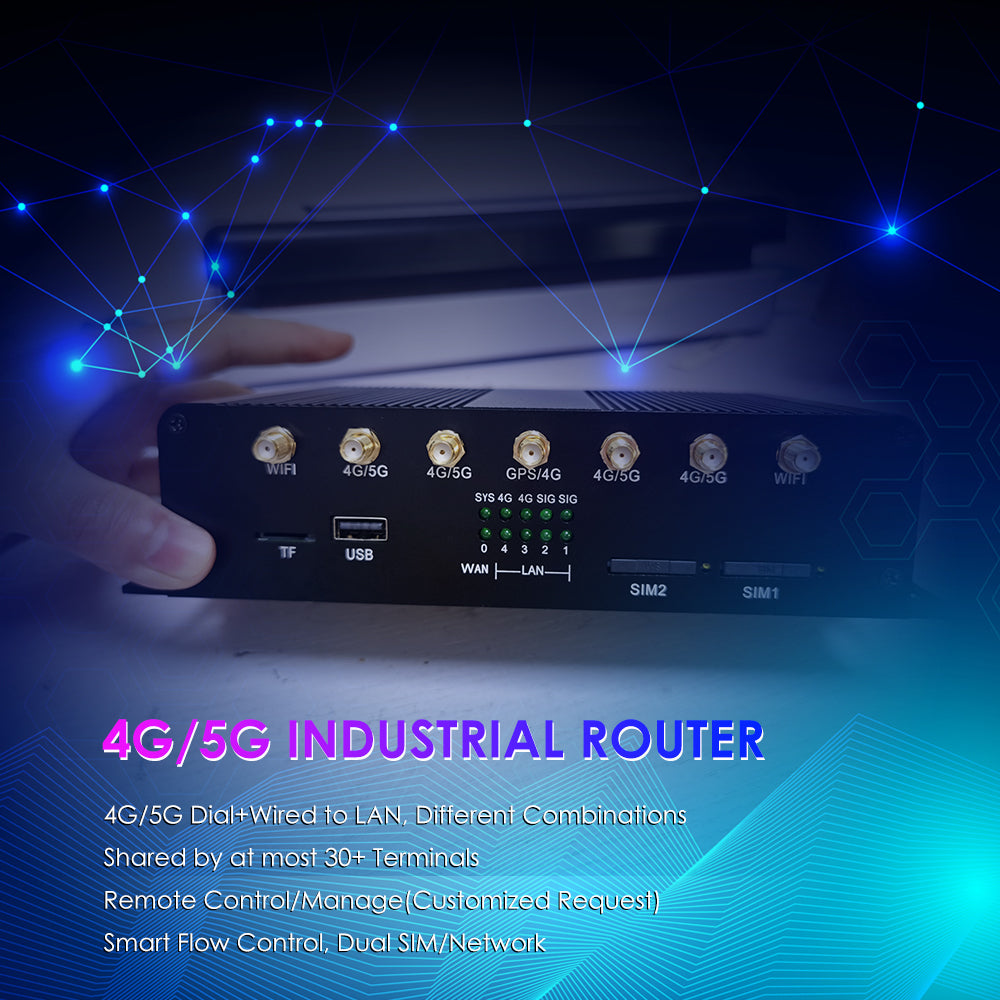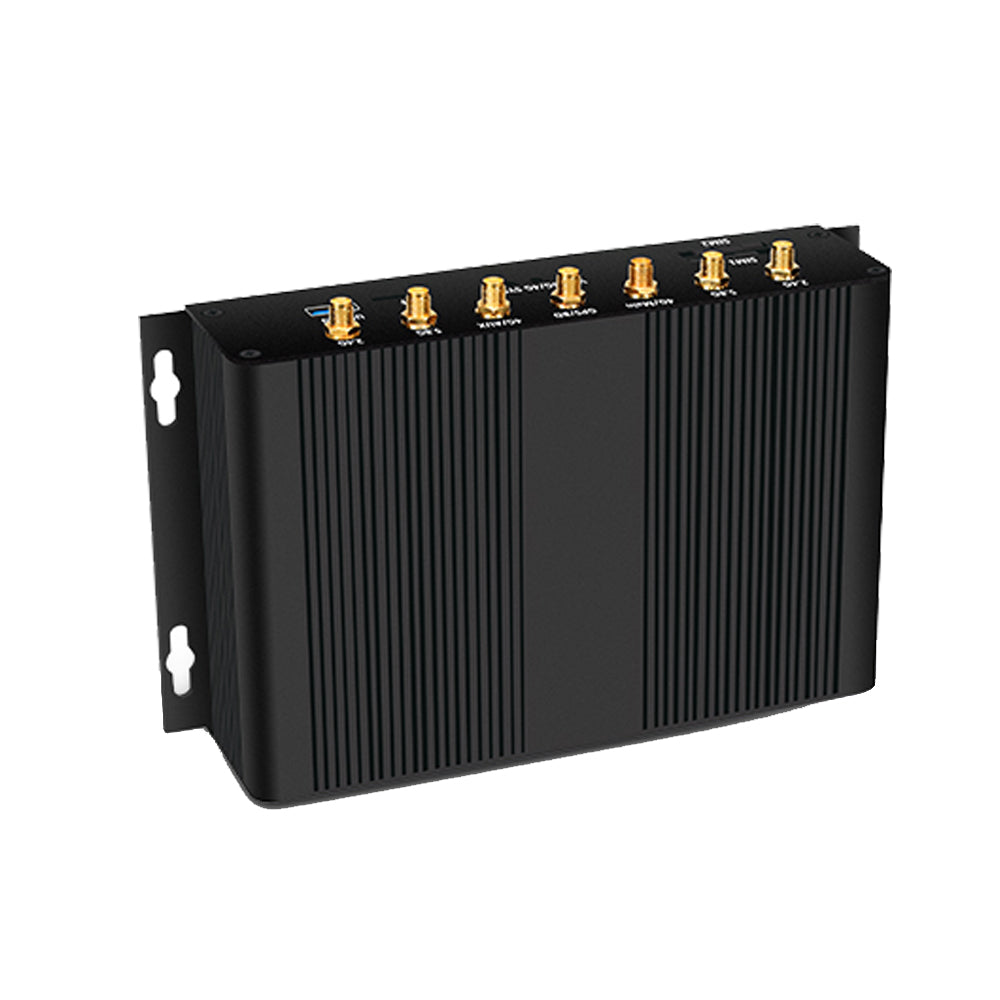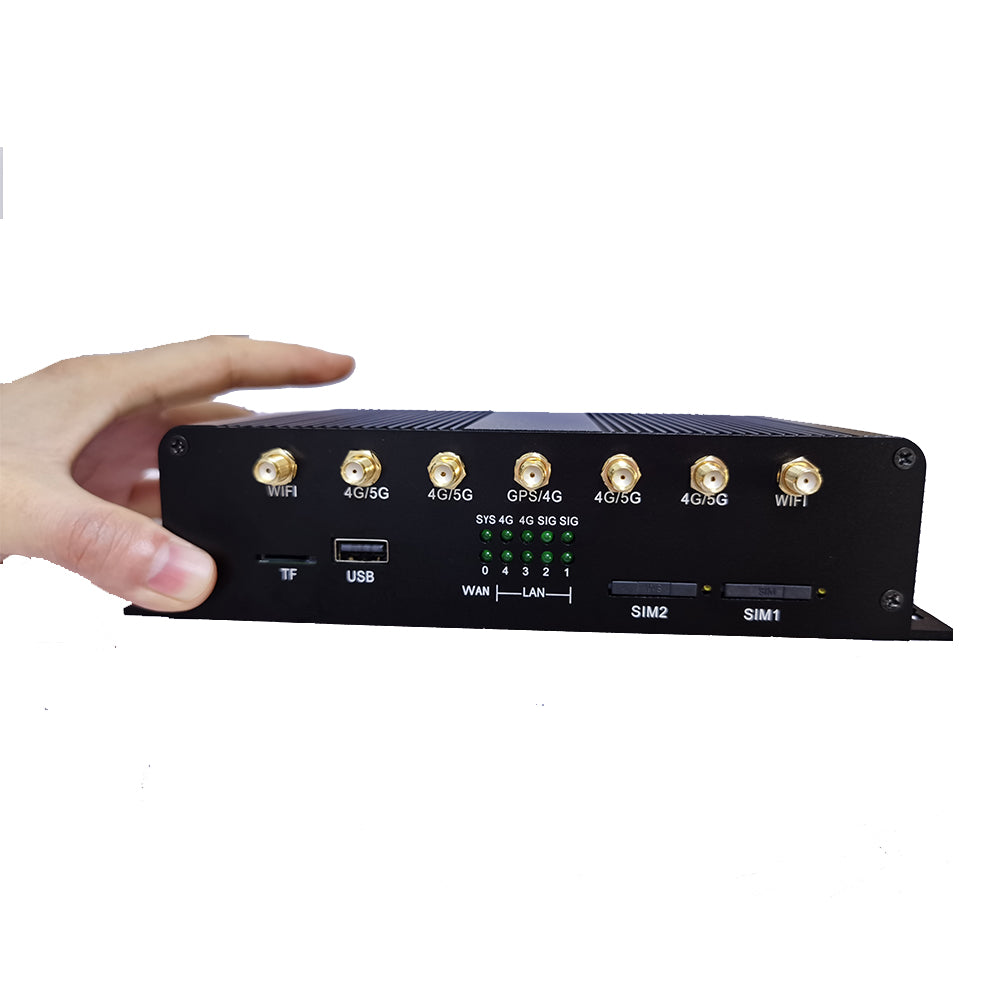 Overview
V520S is a cellular wireless communication industrial router, which uses public or private 4G/5G network to provide users with wireless long-distance big data transmission services.
It adopts a high performance industrial 32-bit processor and industrial dual 4G/5G wireless module, with embedded real-time operating system, RS232, RS485, Gigabit Ethernet, WiFi and other interfaces, which makes transparent data transmission and routing functions realized.
This router has been widely used in the M2M industry in the IOT industry chain, such as smart grid, intelligent transportation, smart home, finance, mobile POS terminal, supply chain automation, industrial automation, smart building, fire protection, public safety, environmental protection, meteorology, digital medical treatment, remote sensing survey, military, space exploration, agriculture, forestry, water affairs, coal mine, petrochemical and other fields.
Industrial Design
Adopt high performance & industrial-grade 32-bit communication processor;
Adopt high performance & industrial-grade 4G, 5G wireless module;
Adopt metal case, protection level IP30;
System safety isolation, primarily used for industrial control field application;
Wide voltage input DC12V~48V;
Industrial humidity -30°C ~ +70°C;
Stable & Reliable
Software, hardware watchdog design to make sure the stability of system;
Dual SIMs, dual 4G/5G online, bandwidth overlay which makes it more stable;
Comprehensive anti-offline mechanism to guarantee data terminal will always be online;
Anti-reversing protection, ESD surge projection, lightning protection;
Standard & Easy to Use
Standard RS232, RS485, Ethernet and WiFi interface;
Smart data terminal, power on and start data transmission;
Convenient and flexible to use, multiple working modes for selection;
Friendly use system configuration and maintenance interface;
Wall mounted, stable and reliable;
Powerful Functions
Multiple connection modes, 4G, PPPOE, wireless bridge, mixed mode;
Support 4G/wired, WLAN dual link intelligent switching backup function;
Multiple VPNs(PPTP/L2TP/GRE/OPenVPN);
GPS, JT/T808 positioning protocol(Optional);
Built-in APNs of more than 100 countries, auto recognition and easy to surf;
Specification
Dimension
204×117×48.2mm(L×W×H)
SOC/Memory
MT7621+MT7612e+MT7603e+512Mb+128Mb
WIFI(2.4G)

Standard: IEEE802.11bgn 300Mbps(2T2R);

Power of Send: 11n HT40 MCS715dBm/11b CCK 18dBm/11G OFDM 15dBm;

Sensitivity of Receive: -65dBm at 300Mbps/-73dBm at 54Mbps/-86dBm at 11Mbps;

WIFI(5.8G)

Standard: IEEE802.11ac 866Mbps(2T2R);

Power of Send: 11ac HT80 MCS9 20dBm;

Sensitivity of Receive: -56dBm at 866Mbps;

WAN
WAN(10/100/1000Mbps self adaptive port), it's WAN under gateway mode, it's LAN under other modes;
LAN
4x LAN ports(10/100/1000Mbps self adaptive port)
Serial Port
RS232, RS485
Power Interface
Phoenix head interface x1/DC port x1, 12V~48V/2A
USB
USB2.0*1
TF Slot
TF slot x1 (can be used for recording running log)
Hardware Watchdog
Supported
Antenna Connector
WiFi x2, 4G x2, 4G/5G x2, GPS x1
SIM Card Slot
Push-Push card slot x2
4G/5G Baseband
Dual 4G/4G+5G
Button
Reset button x1
Indicator(x5)
4G/5G Indicator x2; 4G/5G signal indicator x2; System indicator x1;
Power Consumption(When full loading)
<10W, it's based on different wireless environment and network load, the instant value might be higher than 10W
Temperature

Working temperature: -30°C ~ +70°C

Storage temperature: -45°C ~ +85°C

Humidity: 5%~95%, non-condensing

Dial Modes

Single 4G, dual 4G, wired network, wireless network, wireless internet, mixed;

Cold & hot backup and load balancing bandwidth overlay between 4G, 4G and wired network;

Cold & hot backup and load balancing bandwidth overlay between 4G, 5G and wired network;

Cold & hot backup and load balancing bandwidth overlay between wired network and wireless network;

Combined dial modes: 4G/5G dial+wired to LAN and other customized verson;

Software

Support 1000+ operators, automatically matches operators, custom APN, support PIN code for SIM card;

Maintain the function of resident designated network mode (such as being used to stay in 4G mode to prevent switching to 2G mode, etc.);

Two-way serial port transparent transmission (support flow control, custom registration package/activation package/keep-alive package, custom package prefix and suffix, server and client working at the same time, traffic statistics);

Two-way serial port command mode (supports proprietary HE commands for controlling and managing equipment);

Two-way serial port supports ModbusRTU protocol (convert ModbusRTU on the serial port to ModbusTCP);

Support external GPS in TTL mode in serial port

Two-way serial port transparent transmission for multiple data centers (customized version);

Industrial watchdog and software watchdog;

Low temperature self-heating mechanism;

Automatic restart(regular or restart when idle);

Mutual backup between multiple devices(high availability), if single device failed, it can be switched to backup devices;

Network keep-alive mechanism and continuous failure restart recovery functions(network parameters & threshold can be configured) to ensure data terminal always online;

VPN supports L2TP client, PPTP client, GRE tunnel, OPENVPN client;

GPS positioning and base station positioning functions, support NMEA protocol reporting (packet header and reporting interval can be specified) and JSON protocol of HTTP reporting

DDNS(multiple carriers from home and abroad can be supported), UPNP, domain name redirection, IGMP forward/reverse proxy;

Real-time network traffic graph, terminal real-time traffic and usage statistics;

Terminal flow control, access control, regular network disconnection;

Firewall, port proxy, port mapping (NAT) and DMZ host;

Static routing table management, source address routing;

Dynamic routing protocols (RIPv1, RIPv2, RIPng, OSPFv2, OSPFv3, BGP-4 and BGP-4+) (customized version);

2.4G wireless hotspot, minimum signal threshold, connection limit, wireless black and white list, transmit power adjustment;

WIFIdog (advertising push through WIFIdog), Coova Chilli advertising push;

Base station time synchronization, NTP time synchronization, and support LAN time service to other equipment (provided for some private networks with no RTC camera and other equipment for the right time);

IPV6 protocol support (under development), USSD (under development), TR069 (under development), SNMP (under development), IPSEC (under development);

Development Interfaces

LAN search protocol (discover devices), LAN TCP/HTTP control protocol (control devices), LAN batch upgrade protocol (batch upgrade firmware for devices);

Remote HTTP control protocol (cloud platform management);

GPS reporting protocol (support NMEA/JT808/HTTP protocol reporting);

IO port remote control protocol;

Device information (4G signal, connection duration, traffic and other device status) reporting protocol;

Terminal information (terminal MAC address/connection time and length) collection protocol (under development)

Short message (SMS) control protocol (under development);

Terminal command line (SSH/Telnet/serial port)

Third Party Interfaces

The Farm system is an open operating system, which provides a complete development environment for project users and supports customers to develop their own application software;

The system is a router operating system developed in pure C language, which can run on embedded chip platforms and X86 industrial computers, high performance, low power consumption, low heat;

Provide a component-based development environment, which can conveniently develop customer application software packages (FPK software packages) based on the existing components of the system, and can be applied across embedded platforms;

The component-based development environment provides a unified API and rich component interfaces for customers to call, stacked component application development, can quickly develop customer software packages;

More application functions of the Farm system are constantly increasing (FPK software package), and the chip platform supported by the Farm system is also constantly increasing;

Device Management

Batch view device status and management;

Batch restart and reset devices, batch upgrade devices;

Equipment group management;

Individual equipment management;

4G traffic statistics and quota management (under development);

Alarm information record and email notification (under development);

Equipment operation log management;

Terminal management under equipment;

Max. Users
Wireless: 30, wired: 100
Operation Band
5G Sub-6

RM500Q-AE

RM502Q-AE

RM505Q-AE

RM500Q-GL

RM502Q-GL

RM510Q-GL
Region/Operator
Global(Except for China)
Global(Except for China)
Global(Except for China)
Global(Except for United States)
Global(Except for United States/China/Japan)
Global
Dimensions(mm)
52.0 x 30.0 x 2.3
52.0 x 30.0 x 2.3
52.0 x 30.0 x 2.3
52.0 x 30.0 x 2.3
52.0 x 30.0 x 2.3
52.0 x 30.0 x 2.3
Weight(g)
8.7
8.7
8.7
8.7
9.0
9.1
Supply Voltage Range
3.135–4.4 V, typical 3.7 V
3.135–4.4 V, typical 3.7 V
3.135–4.4 V, typical 3.7 V
3.135–4.4 V, typical 3.7 V
3.135–4.4 V, typical 3.7 V
3.135–4.4 V, typical 3.7 V
Power Consumption
80 μA @ Power down
4.2 mA @ Sleep
32 mA @ USB 2.0, Idle
52 mA @ USB 3.0, Idle
80 μA @ Power down
4.2 mA @ Sleep
32 mA @ USB 2.0, Idle
52 mA @ USB 3.0, Idle
82 μA @ Power down
4.2 mA @ Sleep
32 mA @ USB 2.0, Idle
52 mA @ USB 3.0, Idle
70 μA @ Power down
4.0 mA @ Sleep
32 mA @ USB 2.0, Idle
52 mA @ USB 3.0, Idle
70 μA @ Power down
4.0 mA @ Sleep
32 mA @ USB 2.0, Idle
52 mA @ USB 3.0, Idle
80 μA @ Power down
4.2 mA @ Sleep
32 mA @ USB 2.0, Idle
54.5 mA @ USB 3.0, Idle

Temperature Range

Operation Temperature
-30°C to +75°C
-30°C to +75°C
-30°C to +75°C
-30°C to +75°C
-30°C to +75°C
-30°C to +75°C
Extended Temperature
-40°C to +85°C
-40°C to +85°C
-40°C to +85°C
-40°C to +85°C
-40°C to +85°C
-40°C to +85°C

Frequency Bands

5G NR-NSA

n1/n2/n3/n5/n7/n8/n12/n20/
n25/n28/n38/n40/n41/n48*/
n66/n71/n77/n78/n79

n1/n2/n3/n5/n7/n8/n12/n20/
n25/n28/n38/n40/n41/n48*/
n66/n71/n77/n78/n79

n1/n2/n3/n5/n7/n8/n12/n20/
n25/n28/n38/n40/n41/n48*/
n66/n71/n77/n78/n79

n41/n77/n78/n79
n38/n41/n77/n78

n1/n2/n3/n5/n7/n8/n12/n20/n25/n28/
n38/n40/n41/n48*/n66/n71/n77/n78/
n79/n257①/n258①/n260①/n261

5G NR-SA

n1/n2/n3/n5/n7/n8/n12/n20/
n25/n28/n38/n40/n41/n48*/
n66/n71/n77/n78/n79

n1/n2/n3/n5/n7/n8/n12/n20/
n25/n28/n38/n40/n41/n48*/
n66/n71/n77/n78/n79

n1/n2/n3/n5/n7/n8/n12/n20/
n25/n28/n38/n40/n41/n48*/
n66/n71/n77/n78/n79

n1/n2/n3/n5/n7/n8/n12/n20/
n25/n28/n38/n40/n41/n48*/
n66/n71/n77/n78/n79

n1/n2/n3/n5/n7/n8/n12/n20/
n25/n28/n38/n40/n41/n48/
n66/n71/n77/n78

n1/n2/n3/n5/n7/n8/n12/n20/
n25/n28/n38/n40/n41/n48*/
n66/n71/n77/n78/n79

5G MIMO
DL: 4×4 on n1/n2/n3/n7/n25/n38/n40/
           n41/n48/n66/n77/n78/n79
UL: 2×2 on n41
DL: 4×4 on n1/n2/n3/n7/n25/n38/n40/
           n41/n48/n66/n77/n78/n79
UL: 2×2 on n41
DL: 4×4 on n1/n2/n3/n7/n25/n38/n40/
           n41/n48/n66/n77/n78/n79
UL: 2×2 on n41
DL: 4×4 on n1/n2/n3/n7/n25/n38/n40/
           n41/n48/n66/n77/n78/n79
UL: 2×2 on n41/n77/n78/n79
DL: 4×4 on n1/n2/n3/n7/n25/n38/n40/
           n41/n48/n66/n77/n78/
UL: 2×2 on n41/n77/n78
DL: 4×4 on n1/n2/n3/n7/n25/n38/n40/
           n41/n48*/n66/n77/n78/n79
UL: 2×2 on n41/n257/n258/n260/n261
LTE Category
DL Cat 16 / UL Cat 18
DL Cat 20 / UL Cat 18
DL Cat 16 / UL Cat 18
DL Cat 16 / UL Cat 18
DL Cat 20 / UL Cat 18
DL Cat 20 / UL Cat 18
LTE-FDD

B1/B2/B3/B4/B5/B7/B8/
B12(B17)/B13/B14/B18/B19/
B20/B25/B26/B28/B29/B30/
B32/B66/B71

B1/B2/B3/B4/B5/B7/B8/
B12(B17)/B13/B14/B18/B19/
B20/B25/B26/B28/B29/B30/
B32/B66/B71

B1/B2/B3/B4/B5/B7/B8/
B12(B17)/B13/B14/B18/B19/
B20/B25/B26/B28/B29/B30/
B32/B66/B71

B1/B2/B3/B4/B5/B7/B8/B12/
B13/B14/B17/B18/B19/B20/
B25/B26/B28/B29/B30/B32/
B66/B71

B1/B2/B3/B4/B5/B7/B8/B12/
B13/B14/B17/B18/B19/B20/
B25/B26/B28/B29/B30/B32/
B66/B71

B1/B2/B3/B4/B5/B7/B8/B12/
(B17)/B13/B14/B18/B19/B20/
B25/B26/B28/B29/B30/B32
/B66/B71

LTE-TDD

B34/B38/B39/B40/B41/B42/
B43/B48

B34/B38/B39/B40/B41/B42/
B43/B48

B34/B38/B39/B40/B41/B42/
B43/B48

B34/B38/B39/B40/B41/B42/
B43/B48

B34/B38/B39/B40/B41/B42/
B43/B48

B34/B38/B39/B40/B41/B42/
B43/B48

LAA
B46 (only support 2×2 MIMO)
B46 (only support 2×2 MIMO) 
B46 (only support 2×2 MIMO) 
B46
B46
B46 (only supported for DL 2 × 2 MIMO)
LTE DL4 x 4 MIMO

B1/B2/B3/B4/B7/B25/
B30/B32/B34/B38/B39/B40/
B41/B42/B43/B48/B66

B1/B2/B3/B4/B7/B25/
B30/B32/B34/B38/B39/B40/
B41/B42/B43/B48/B66

B1/B2/B3/B4/B7/B25/
B30/B32/B34/B38/B39/B40/
B41/B42/B43/B48/B66

B1/B2/B3/B4/B7/B25/
B30/B32/B34/B38/B39/B40/
B41/B42/B43/B48/B66

B1/B2/B3/B4/B7/B25/
B30/B32/B34/B38/B39/B40/
B41/B42/B43/B48/B66

WCDMA
B1/B2/B3/B4/B5/B6/B8/B19
B1/B2/B3/B4/B5/B6/B8/B19
B1/B2/B3/B4/B5/B6/B8/B19
B1/B2/B3/B4/B5/B6/B8/B19
B1/B2/B3/B4/B5/B6/B8/B19
B1/B2/B3/B4/B5/B6/B8/B19
GNSS
GPS/GLONASS/
BeiDou(Compass)/Galileo
GPS/GLONASS/
BeiDou(Compass)/Galileo
GPS/GLONASS/
BeiDou(Compass)/Galileo
GPS/GLONASS/
BeiDou(Compass)/Galileo
GPS/GLONASS/
BeiDou(Compass)/Galileo
GPS/GLONASS/
BeiDou(Compass)/Galileo

Certifications

Regulatory
GCF/ CE/ PTCRB/ FCC/ IC/
NCC/ JATE/ TELEC/ RCM
GCF/ CE/ PTCRB/ FCC/ IC/
JATE/ TELEC/ RCM
GCF / CE/ PTCRB/ FCC/ IC/
JATE/ TELEC/ RCM
GCF/ CE/ SRRC/CCC/ NAL/ KC/
RCM
GCF / CE / PTCRB/ FCC/ IC/
RCM
GCF / CE / PTCRB/ FCC/ IC/
RCM
Carrier
Deutsche Telekom*/
Verizon*/ AT&T/ T-Mobile*/
Telstra*
Verizon*/ AT&T/ T-Mobile/
Telstra
Verizon*/ AT&T/ T-Mobile*/
Telstra*
Deutsche Telekom*/ China
Telecom/ China Mobile/ China
Unicom/ KT/ SKT*/ LGU+
TBD
Verizon*/ AT&T*/ T-Mobile*/
Telstra*
Others
RoHS/WHQL
RoHS/WHQL
RoHS/WHQL
RoHS/WHQL
RoHS/WHQL
RoHS/WHQL

Data Rate (Max.)①

5G SA Sub-6
DL 2.1 Gbps; UL 450 Mbps
DL 4.2 Gbps; UL 450 Mbps
DL 2.1 Gbps; UL 450 Mbps
DL 2.1 Gbps; UL 900 Mbps
DL 4.2 Gbps; UL 900 Mbps 
DL 4.2 Gbps; UL 450 Mbps
5G NSA Sub-6
DL 2.5 Gbps; UL 600/650 Mbps ②
DL 5.0 Gbps; UL 600/650 Mbps ②
DL 2.5 Gbps; UL 600/650 Mbps ②
DL 2.5 Gbps; UL 600/650 Mbps ②
DL 5.0 Gbps; UL 600/650 Mbps ②
DL 5.0 Gbps; UL 600/650 Mbps ③
LTE
DL 1.0 Gbps; UL 200 Mbps
DL 2.0 Gbps; UL 200 Mbps
DL 1.0 Gbps; UL 200 Mbps
DL 1.0 Gbps; UL 200 Mbps
DL 2.0 Gbps; UL 200 Mbps
 

DL 2.0 Gbps; UL 200 Mbps

WCDMA
DL 42 Mbps; UL 5.76 Mbps
DL 42 Mbps; UL 5.76 Mbps
DL 42 Mbps; UL 5.76 Mbps
DL 42 Mbps; UL 5.76 Mbps
DL 42 Mbps; UL 5.76 Mbps
DL 42 Mbps; UL 5.76 Mbps

Interface

(U)SIM
x 1
x 1
x 2 (Dual SIM Single Standby)
x 2 (Dual SIM Single Standby)
x 2 (Dual SIM Single Standby)
x 1
USB 2.0
x 1
x 1
x 1
x 1
x 1
x 1
USB 3.0/3.1
x 1
x 1
x 1
x 1
x 1
x 1
PCIe 3.0
x 1
x 1
x 1
x 1
x 1
x 1
PCM
x 1
x 1
x 1
x 1
x 1
x 1
Antenna
Cellular: × 3
Cellular + GNSS L1: × 1
Cellular: × 3
Cellular + GNSS L1: × 1
Cellular: × 4
GNSS L1&L5: × 1
Cellular: × 3
Cellular + GNSS L1: × 1
Cellular: × 3
Cellular + GNSS L1: × 1
Sub-6 GHz × 4;
mmWave × 8
Voice
 
 
 
 
 
 
Digital Audio & VoLTE
○
○
○
○
-
○

Enhanced Features

eSIM*
○
○
○
○
○
○
DTMF*
●
●
●
●
●
●
DFOTA*
●
●
●
●
●
●
(U)SIM Card Detection
●
●
●
●
●
●
Drivers
USB Serial Driver
Windows 7/8/8.1/10
Linux 2.6–5.4
Android 4.x/5.x/6.x/7.x/8.x/9.x/10
Windows 7/8/8.1/10
Linux 2.6–5.4
Android 4.x/5.x/6.x/7.x/8.x/9.x/10
Windows 7/8/8.1/10
Linux 2.6–5.4
Android 4.x/5.x/6.x/7.x/8.x/9.x/10
Windows 7/8/8.1/10
Linux 2.6–5.4
Android 4.x/5.x/6.x/7.x/8.x/9.x/10
Windows 7/8/8.1/10
Linux 2.6–5.4
Android 4.x/5.x/6.x/7.x/8.x/9.x/10
Windows 7/8/8.1/10
Linux 2.6–5.4
Android 4.x/5.x/6.x/7.x/8.x/9.x/10
GNSS Driver
Android 4.x/5.x/6.x/7.x/8.x/9.x/10
Android 4.x/5.x/6.x/7.x/8.x/9.x/10
Android 4.x/5.x/6.x/7.x/8.x/9.x/10
Android 4.x/5.x/6.x/7.x/8.x/9.x/10
Android 4.x/5.x/6.x/7.x/8.x/9.x/10
Android 4.x/5.x/6.x/7.x/8.x/9.x/10
RIL Driver
Android 4.x/5.x/6.x/7.x/8.x/9.x/10
Android 4.x/5.x/6.x/7.x/8.x/9.x/10
Android 4.x/5.x/6.x/7.x/8.x/9.x/10
Android 4.x/5.x/6.x/7.x/8.x/9.x/10
Android 4.x/5.x/6.x/7.x/8.x/9.x/10
Android 4.x/5.x/6.x/7.x/8.x/9.x/10
NDIS Driver
Windows 7/8/8.1/10
Windows 7/8/8.1/10
Windows 7/8/8.1/10
Windows 7/8/8.1/10
Windows 7/8/8.1/10
Windows 7/8/8.1/10
MBIM Driver
Windows 10
Linux 3.18–5.4
Windows 10
Linux 3.18–5.4
Windows 10
Linux 3.18–5.4
Windows 10
Linux 3.18–5.4
Windows 10
Linux 3.18–5.4
Windows 10
Linux 3.18–5.4
GobiNet Driver
Linux 2.6–5.4
Linux 2.6–5.4
Linux 2.6–5.4
Linux 2.6–5.4
Linux 2.6–5.4
Linux 2.6–5.4
QMI_WWAN Driver
Linux 3.4–5.4
Linux 3.4–5.4
Linux 3.4–5.4
Linux 3.4–5.4
Linux 3.4–5.4
Linux 3.4–5.4
User Manual